CERTIFICATE/LAB
None
GIA
AGS
CGL
HRD
IGI
EGLUS
EGLI
GCAL
EGLSA
Poor
Fair
Good
Very Good
Excellent
Fair
Good
Very Good
Excellent
Poor
Fair
Good
Very Good
Excellent
Faint
Medium
Strong
V.Strong
Pear Shaped Lab Grown Diamonds
Pear lab diamonds are a type of lab-created diamond that has been cut into a teardrop or pear shape. These diamonds are produced in a laboratory using advanced technology that simulates the high pressure and temperature conditions that occur deep within the earth's mantle, where natural diamonds are formed.
Pear lab diamonds are a popular choice for engagement rings and other jewelry pieces, as their unique shape provides an elegant and sophisticated look. Like all lab-created diamonds, they are more affordable than natural diamonds, making them an attractive option for those looking for a high-quality diamond at a more accessible price point.
When choosing a pear lab diamond, factors to consider include its cut, clarity, color, and carat weight. The cut of a pear lab diamond is particularly important, as it can greatly impact the diamond's overall appearance and beauty. Pear lab diamonds are often set in a variety of different styles, such as solitaire or halo settings, to showcase their unique shape.
One of the benefits of choosing a pear lab diamond over a natural diamond is that lab-created diamonds are conflict-free and environmentally friendly, as they do not require mining and do not contribute to the negative social and environmental impacts associated with the diamond mining industry. Additionally, lab-created diamonds can be created with fewer impurities than natural diamonds, resulting in a higher quality diamond overall.
Overall, pear lab diamonds offer a unique and affordable alternative to natural diamonds for those looking for a high-quality diamond with a distinctive shape.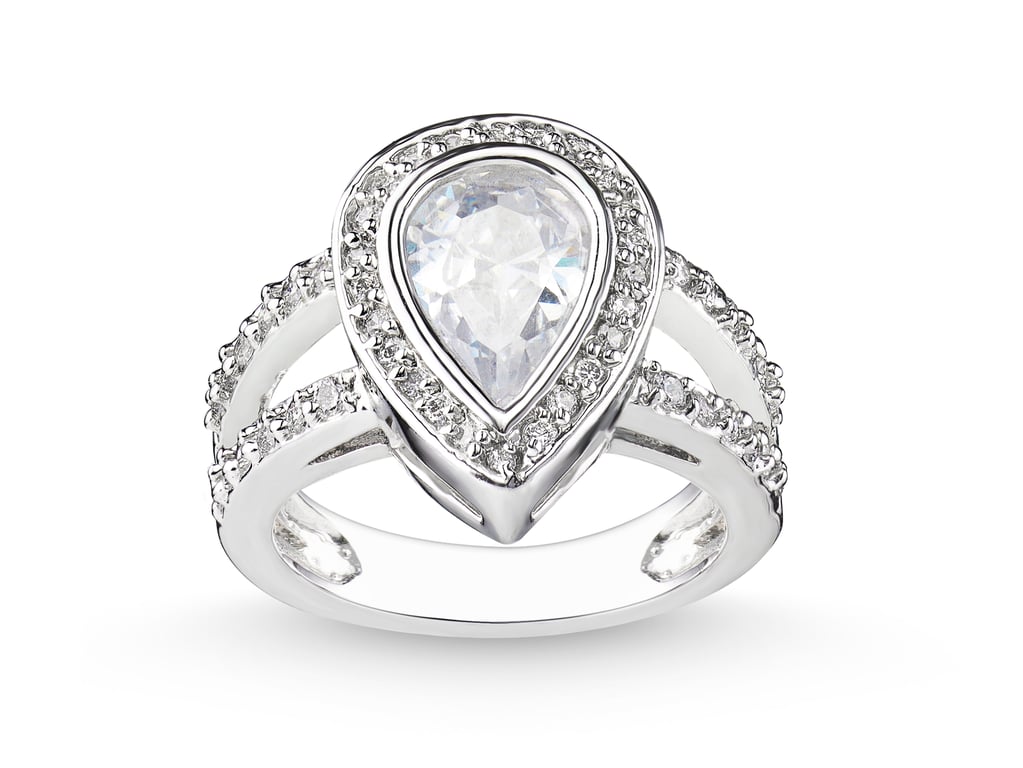 What is a pear-shaped diamond?
Pear cut diamonds are named after the juicy fruit that inspired them. It looks like a tiny teardrop, sparkling with its edges and facets. This cut dates back to the 16th century, when the Rose and Briolette cuts were very popular, the latter of which was the predecessor of the modern pear. A lab-grown pear-shaped engagement ring is a real masterpiece, as it reminds of luxurious Baroque jewelry that is rich and expensive.
One more reason why the pear lab grown diamond engagement ring is so popular is its unique symmetry, which is provided in multiple options both for more shortened and wide shapes and for elongated, thinner shapes. The most proportional and harmonious is the elongation coefficient, i.e., the ratio of the length and base width of a diamond, which ranges from 1.5 to 1.75. In both options, a gem looks exquisite yet unpretentious.
Lab grown pear-cut gems are very popular in contemporary jewelry art. Due to their only unique degree of symmetry, they are often used as inserts in pendants and earrings and can also be a central element in classic rings, including engagement rings. A ring with a single large teardrop-shaped diamond visually gives a woman's hand an aristocratic grace and elegance.
Pear lab diamonds are a very stylish and bold mix between lab grown round and lab grown marquise diamonds. A pear-shaped lab grown diamond engagement ring is for the woman who is always on the lookout for adventure. They bear a resemblance to an elegant teardrop, with one pointed end and one rounded end. Combining tradition and brilliance, a pear-shaped diamond created in a lab is perfect for the bride, who is drawn to excitement and the unexpected.
How to Buy A Perfect Pear Lab Grown Diamonds?
When talking about the perfect shape and style of a piece of jewelry, the cut of its central stones should be considered first. So, what is an ideal shape of jewelry for a lab created pear diamond?
Firstly, let's consider if we are talking about naturally mined gems that are usually of a small size due to their high cost. Or if we talk about pear-shaped lab-grown diamonds that can be huge yet affordable, for the first option, it is a thin, golden ring with a strict, classy shape to be a perfect match. Being a central stone, even 1-carat lab grown pear lab-created diamonds will be noticed for their tiny harmony.
The lab-grown pear shape of a gemstone is a symbiotic version between lab-grown round and lab-grown marquise shapes that includes multiple merits of each cut that influenced it. Let's tell about it in a few figures:
56 edges
Color of 1-8.5
Clarity of 1-12
Elongation of 1.40–1.75
If you want to get a ring with a lab grown pear-cut lab diamond, there are much more options to choose from! This teardrop-like gem will decorate both solid golden rings and a wide lampwork finger ring. You can select an engagement ring of lab grown pear-shaped diamonds in an antique style or one resembling the Baroque style. It will create a great combo with smaller lab grown round diamonds in the shape of a halo ring with an exquisite lab pear diamond as a central stone. And here is great news for you: You can buy lab grown pear diamond engagement rings online in Dallas right now. They are available in the Sofia Lior jewelry store!
Choose the Perfect Metal for Your Lab Grown Pear Diamond Engagement Ring
Metal color for an engagement ring is often a matter of disagreement. As lots of people prefer classical yellow gold for their rings, lots of future newlyweds want to get an absolutely exclusive one. We can bet that a pear lab grown diamond ring in rose gold is that exclusive masterpiece your girlfriend will truly appreciate. It is especially suitable for tiny young girls, romantic individuals, and creative personalities.
Well, a yellow gold lab grown pear-shaped engagement ring is no less beautiful. It is a more traditional choice, yet popular. A yellow diamond pear lab grown diamonds engagement ring suits everyone, no matter their age, height, stature, or skin color. But if you want to get even more, why should you stop? Get a combo of yellow and rose gold lab-created engagement rings in one sample of jewelry! Created from two types of gold at once, such engagement rings look outside the box. In addition, the combination of the two materials also makes it possible to use different jewelry techniques, for example, overlaying layers of openwork or inlaying with another type of metal.
Compare 1 vs. 2 carat lab-grown pear-shaped diamond rings
The next thing to compare is the weight of the diamonds. For a pear shaped lab grown diamonds, a large diamond is more of an advantage. But as an engagement ring, you can consider the more modest size of the stone, i.e., a tiny 1-carat ring will be suitable for a very young and inexperienced girl. If we talk about a bride that has already been married, it's better to get a bigger gem. If she has tiny, small hands, you can stop on a 1.5-carat pear lab grown diamond ring. For a full-bodied stature, lab created pear shaped diamond engagement rings of 2 carats will be a perfect idea, as the cut of a stone makes the palm lighter and more refined.
And if we talk about lab-grown gemstones, you can feel free to get even more than a 2-carat lab grown pear shaped diamonds ring. Due to their low price, lab diamonds are ten times cheaper than natural gems. So if you want to make a considerable symbol of your love, take a look at rings with 3+ carats.
What celebrity wear pear shaped engagement rings?
Some celebrities who have been given pear-shaped diamond engagement rings are Jessica Simpson, Victoria Beckham, and Sophie Turner. The pointed end of a pear shape diamond engagement ring should point towards the heart of the wearer.
But the first celebrity to make pear diamonds extremely popular was Marie-Antionette, the Queen of France. Her favorite earrings were decorated with pendants of big, clear pear-shaped diamonds. And one more sample of a pear-shaped diamond that is well-known to almost everyone is the famous 24-carat yellow diamond named Baroda Moon that was filmed in the real masterpiece of Hollywood, Gentlemen Prefer Blondes, with Marylin Monroe starring.
Pear loose lab grown diamond are considered quite rare and one of the most expensive. Out of 10 points, where 1 is the rarest species, and 10 is the most common, experts give the lab created pear diamond cut a solid five.
Where to Buy Pear Lab Grown Diamonds in Dallas, Texas?
Pear lab grown diamonds are the most popularly sold jewelry in our store. This lab-grown diamond fits perfectly on most engagement rings and might be the perfect one for you to buy. It makes no sense to compare prices for pear lab grown diamonds with ordinary diamonds, since the price will be an order of magnitude lower, and they will sparkle and shine on the engagement ring in the same way. Only an experienced jeweler will be able to tell the difference between pear lab diamonds and natural pear diamonds.
You can turn to our contacts if you only have an engagement ring and are looking to buy a pear lab-created diamond to make a wonderful composition. Our jeweler will help you make the perfect arrangement of a lab-grown pear diamond with a ring. Having bought a pear lab-grown diamond in our store, you will remain one of our happy customers and will be able to bring your idea to life.
Our jewelry store specializes in the sale of pear lab-grown diamonds in Dallas, Texas. Our prices for these lab diamonds are flexible, and we can always help you find a pear lab-grown diamond that fits your budget. So, you can shop for pear diamonds in our store!
To schedule an appointment to see the showroom, our jewelry shop in Dallas, Texas, please go to our contact page or give us a call. Also, if you are unsure about the cut of a lab-grown diamond or which lab-grown diamond to select for your ring, you may visit our shop to receive detailed information on rings, diamonds, before making a purchase decision.
FAQs Pear Cut Lab Grown Diamonds
1 carat pear diamond prices range from $2,100 to $11,200 but have an average price of $4,000. The price for 1 carat pear cut lab grown diamonds range from $930 to $2,600.
A 2 carat pear diamond is approximately 11.4×6.87×4.19mm in size.
Looking for the best way to clean your lab grown pear diamond engagement ring? Take a look at our jewelry care &am
Lab-created diamonds are 100% real diamonds – not simulants and are certified &am