Lab Grown Diamonds & Moissanites
Diamonds are considered to be girl's best friends, but they are also considered a commodity that maintains value in the world. As the universal currency in the world, jewelry is a sign of luxury, style and higher status. The reserves of natural stones are very limited not endless and finding large and, at the same time, clear diamonds is not an easy task. Lab Grown diamonds help solve this. But if you did not manage to find the best diamond for your jewelry, you should not despair because today the trend is not only exclusive but also environmental friendliness. And then they come to the rescue, lab-grown diamonds.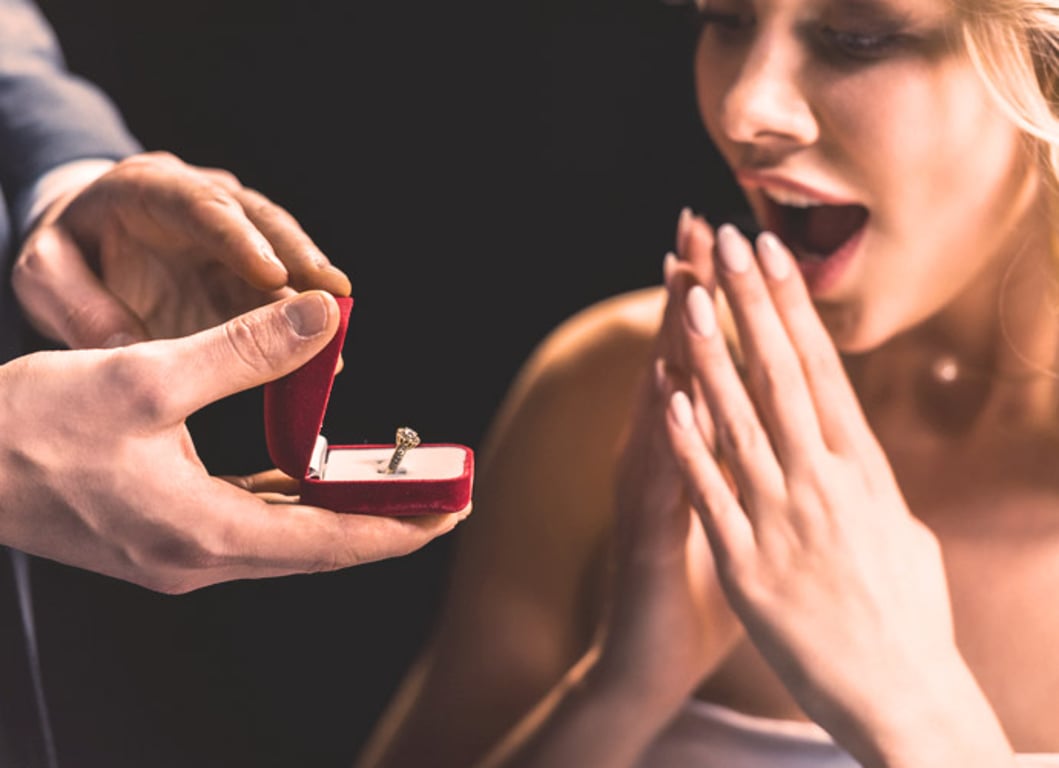 Take advantage of our custom engagement ring designers who over 35 years of combined experience at very compensative online pricing
get more info
Engagement Ring Design Process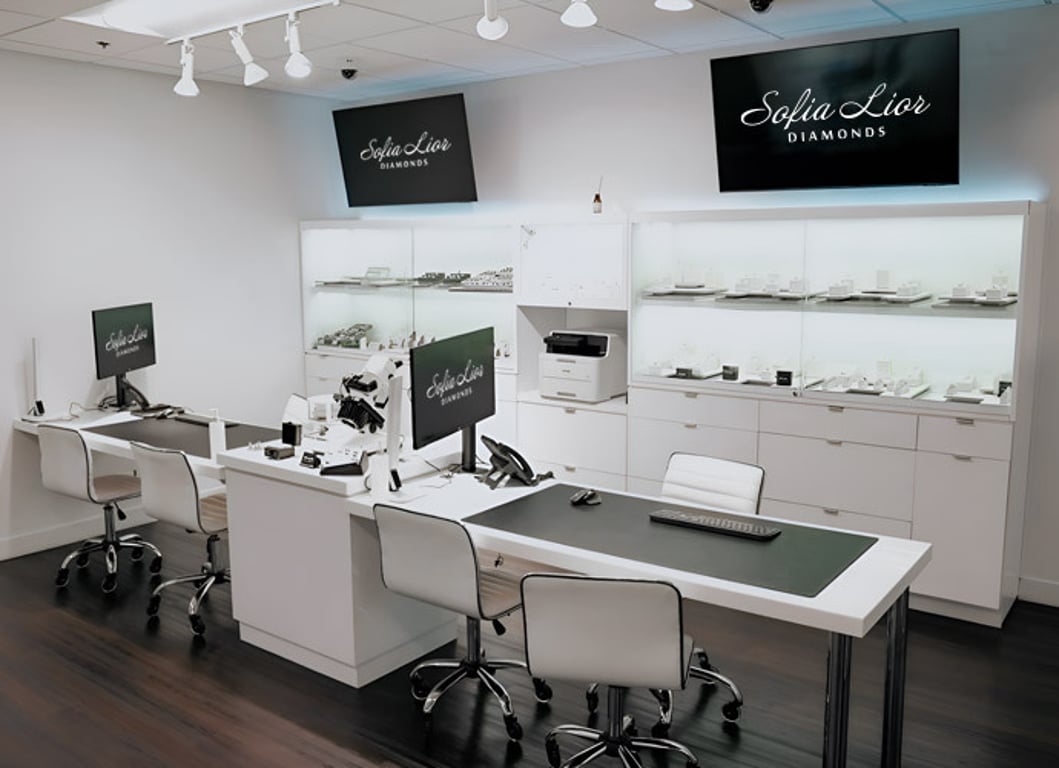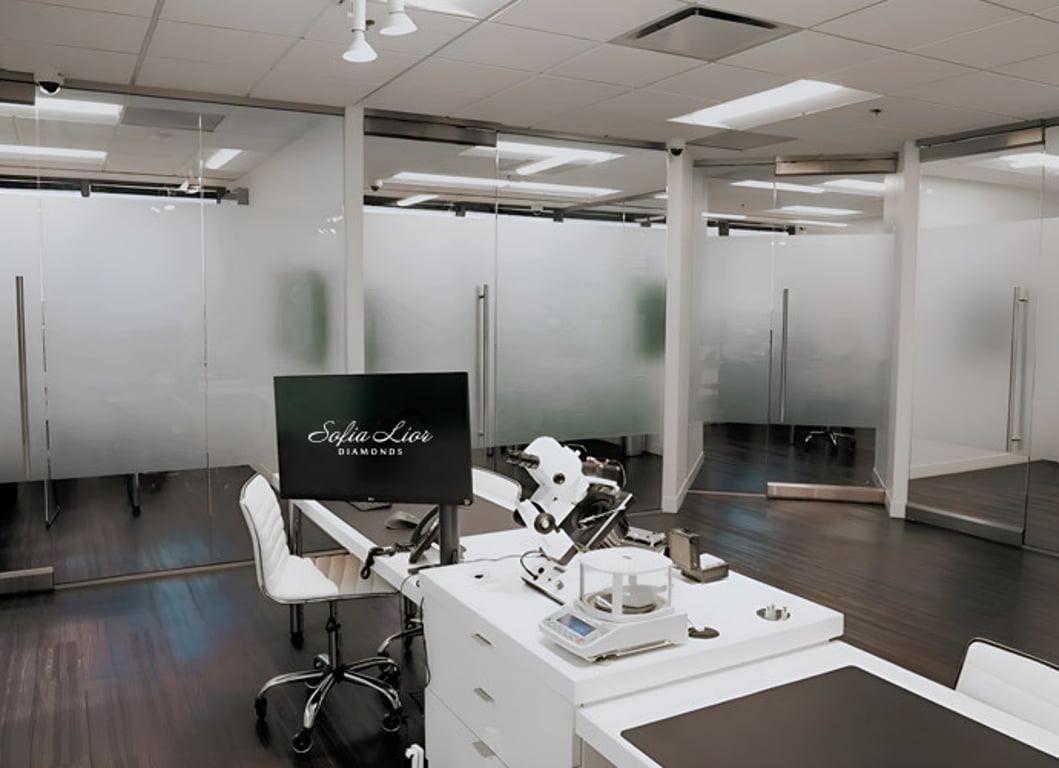 The owners of Sofia Lior Diamonds company have been in the natural loose diamonds business for over 30 plus years, with combined experience in custom design of engagement rings and the largest selection of loose diamonds in Dallas, TX. Due to the current market high demand for lab created diamonds and moissanites, we decide to launch a new jewelry company focusing on the production of custom engagement rings for the lab created diamonds with the same high quality as a natural diamond product with very competitive pricing.
get more info
LAB GROWN DIAMONDS DALLAS IN OUR JEWELRY STORE
Our jewelry store, Sofia Lior Diamonds, has been selling lab created diamonds, loose moissanite and other lab created stones for several years. Prior to that, the jewelers and owners of Sofia Lior Diamonds company have been in the natural loose diamonds business for over 30 years. Their combined experience in designing custom engagement rings, custom jewelry and selling loose diamonds, has set them apart in Dallas, TX as a premier jewelry company. Given the great demand for lab created diamonds and moissanites, our jewelry company focuses on the production of high end custom engagement rings and the sale of lab diamonds that are competitive in quality to natural diamonds at significant savings. Sofia Lior Moissanites are impressively brilliant, surprisingly competitive to any jewelry store in Dallas.
WHAT ARE MAN MADE DIAMONDS?
Man made diamonds are created in special laboratories so that you can get a laboratory created diamond. Such diamonds are very popular at the moment, as they are created in laboratory conditions, while priced at 60% lower price than natural diamond product. Man made diamonds occupy a high market share in the sale of diamonds and are gradually crowding natural diamonds without harming the environment and without touching the nature of the earth by extracting natural diamonds. Man-made diamonds are becoming a new trend in the modern world and in the diamond sales market.
These man-made diamonds are made up of real carbon atoms located in the characteristic crystal structure of a natural diamond. Since they are made from the same material as natural diamonds, they have the same optical and chemical properties. You can buy the man-made diamonds in jewelry stores that specialize in laboratory diamonds. Our jewelry store specializes in the sale of this diamonds of different shapes and colors. Our jewelry store in Dallas, Texas has a large selection of man-made diamonds that you can buy much less than natural diamonds.
WHAT ARE LAB-CREATED DIAMONDS?
Synthetic, or lab created & lab grown diamond is an imitation of a natural mineral that is in no way inferior to the original. Are lab created diamonds real? Of course, they are! Synthesized diamonds are free from defects, cleaner and harder than natural ones. Synthetic diamonds are produced in laboratories using several methods. To manufacture them, expensive equipment and high-quality raw materials are required.
Are lab created diamonds real diamonds? That is the first question that arises from lovers of exclusive jewelry. And we can safely say: yes, lab-created gems are natural diamonds, indistinguishable from stones mined in wildlife. While in their creation, they acquire all the characteristics that mined diamonds have, including such specific features as strength, structure, shining, refractive index etc. Calling synthetic diamonds a copy is wrong. Rather, it is the same mineral, produced in different ways. It's worth noting that the only differences between the two are the way they appear. In one case, stones are born in nature, in the other, a person puts his hand to their creation.
If nature needs to spend millions of years creating stones with perfect purity from carbon, then thanks to the advanced technology, people have enough minimum time to grow a diamond in a laboratory. But you do not have to travel halfway around the world to acquire the coveted stone or jewelry with it. Our jewelry store in Dallas, TX will help you with this. We only work with certified imitation diamond manufacturers and our lab created diamond engagement rings in Dallas are exceptionally high in strength, clarity, and size. You just need to make a call or come to our jewelry store in Dallas and say which lab created diamond you want to buy. If you have not decided which one you want to buy a lab diamond, then our jeweler will help you! Our prices for diamonds are much lower compared to other jewelry stores. An experienced jeweler with extensive experience in the jewelry market will help you choose a lab grown diamond and an engagement ring. Our jeweler will not leave you indifferent in the selection of jewelry, where in this large selection you can find really that lab created diamond and that engagement ring that can suit you!
Lab-created diamonds are diamonds that are created in a laboratory setting, rather than being mined from the earth. They are chemically, physically, and optically identical to natural diamonds, but they are produced using advanced technological processes.
Lab-created diamonds are made by recreating the high pressure and temperature conditions that occur naturally deep beneath the earth's surface. This process involves using a small diamond seed and subjecting it to heat and pressure in a specialized machine called a high-pressure high-temperature (HPHT) press. The result is a diamond that is virtually indistinguishable from a natural diamond. Lab-created diamonds are often referred to as "man-made" or "synthetic" diamonds. They are a more environmentally and socially responsible alternative to natural diamonds, as they do not require mining and the negative impacts that can come with it. They are also generally less expensive than natural diamonds. Lab-created diamonds are used in a variety of applications, including jewelry, industrial cutting and drilling tools, and electronics. They have the same physical and chemical properties as natural diamonds, making them suitable for use in a wide range of applications where diamonds are traditionally used.
SOFIA LIOR DIAMONDS IS THE BEST JEWELRY STORE IN DALLAS
Sofia Lior Diamonds jewelry store have been in business selling moissanite engagement rings in Dallas and Lab Diamonds for almost 5 years, but our owners have been in the business of Loose Diamonds over 30 years of combined experience in custom jewelry engagement ring design and wholesale loose mined diamonds.
Since lab diamond jewelry is of the same quality as any mined diamond its considered a timeless investment that may be passed down through generations, we guarantee that the highest quality is utilizing with only the most innovative technology and machinery. Sofia Lior jewelry store continuously attend all major trade shows in the industry of Lab Diamonds and Moissanites to bring you the latest and most modern of what is available in the world today. We also train our designers bi-annually to make sure they are always on top of all the latest trends and latest fads as it comes to custom designs from lab diamonds and moissanite engagement rings. Our custom jewelry presents the love that we have for what we do and our clients to allow us to share their happiest moments in their lives, that is an amazing feeling.
Sofia Lior Diamonds is the best jewelry store in Dallas
Our mission as Wholesale Lab Diamond Dealers and Fine Lab Diamonds and Moissanite Jewelry designers, is to bring our clients the maximum level of service with uncompromised integrity at the lowest possible cost. We utilize only the supreme sparkling certified lab diamonds and moissanite in the Sofia Lior Diamonds lines reaching the true essence of the Sofia Lior that our design jewelry in bodies.
To design your own custom engagement ring with lab-created diamonds, you will typically need to follow these steps:
Choose the style of the ring: Decide on the overall design and shape of the ring, such as a solitaire, halo, three-stone, or vintage-inspired style.
Select the setting: Choose the type of metal for the ring setting, such as white gold, yellow gold, platinum, or rose gold. You can also choose the type of setting, such as prong, bezel, or channel.
Choose the diamonds: Select the size, shape, and quality of the lab-created diamonds you want to use in your engagement ring. You can choose from a variety of diamond shapes, including round, princess, cushion, pear, and oval, as well as different diamond grades based on their clarity, color, and cut.
Place your order: Once you have chosen all the details for your custom engagement ring, you can place your order with the jewelry store or online retailer. Some custom design services may allow you to see a rendering or mockup of your ring before it is made, so you can make any final adjustments.