CERTIFICATE/LAB
None
GIA
AGS
CGL
HRD
IGI
EGLUS
EGLI
GCAL
EGLSA
Poor
Fair
Good
Very Good
Excellent
Fair
Good
Very Good
Excellent
Poor
Fair
Good
Very Good
Excellent
Faint
Medium
Strong
V.Strong
Emerald Cut Lab Grown Diamonds
Emerald lab diamonds are a type of lab-created diamond that has been specifically cut into an emerald shape. These diamonds are engineered to have the same chemical and physical properties as natural diamonds. They are produced in a laboratory using advanced technology that simulates the high pressure and temperature conditions that occur deep within the earth's mantle, where natural diamonds are formed.
Emerald lab diamonds are prized for their unique and sophisticated look, with their rectangular or square shape and beveled corners. They are often used in engagement rings and other jewelry pieces as an alternative to natural emerald-cut diamonds. Like all lab-created diamonds, emerald lab diamonds are more affordable than their natural counterparts, making them an attractive option for those looking for a high-quality diamond at a more accessible price point.
Choosing an emerald lab diamond involves considering the same factors as with natural diamonds, including cut, clarity, color, and carat weight. The cut of an emerald lab diamond is particularly important, as it can impact the diamond's overall appearance and beauty. Like all diamonds, emerald lab diamonds require proper care and maintenance to ensure their longevity and brilliance.
One of the benefits of choosing an emerald lab diamond over a natural diamond is that lab-created diamonds are conflict-free and environmentally friendly, as they do not contribute to the negative social and environmental impacts associated with the diamond mining industry.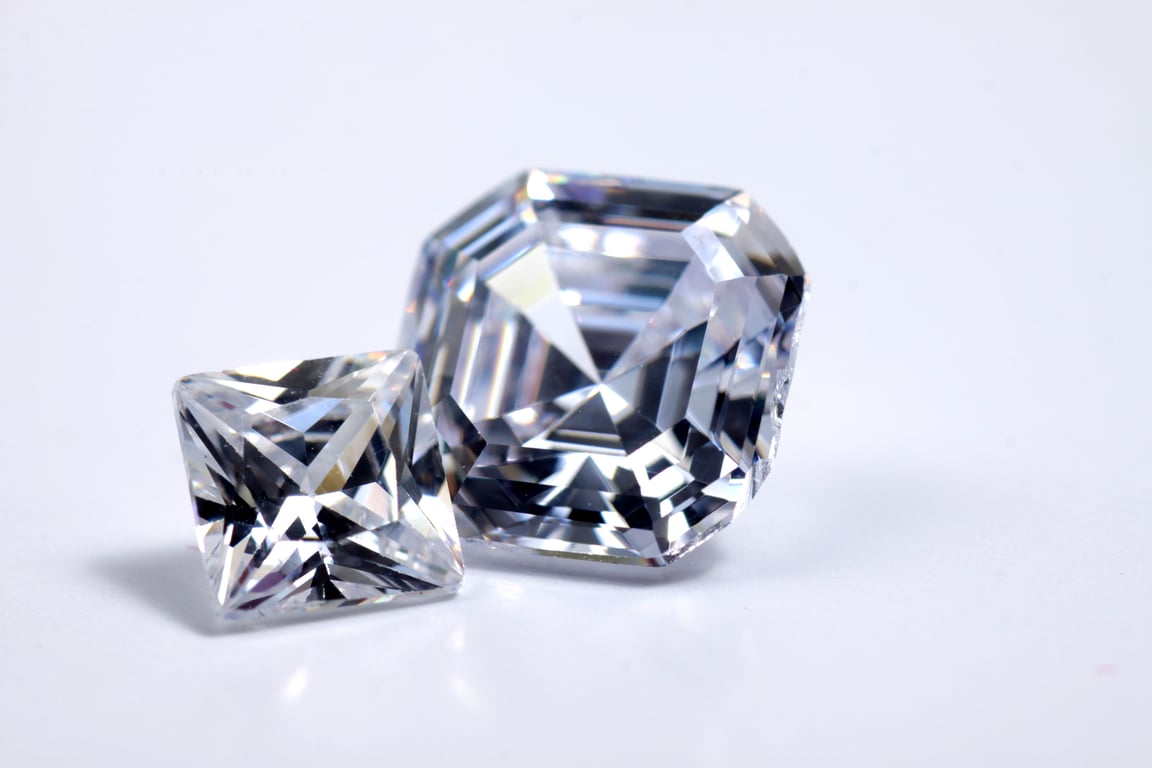 WHAT IS A Emerald-CUT DIAMOND?
If you look at the traditional type of engagement rings, it is highly likely many of them will be set with diamonds, and not just diamonds but lab-grown emerald-cut stones. It is this laconic but aesthetic form that is especially good for a symbol of love and the creation of a new family.
And more and more natural stones are giving way to lab-grown emerald diamonds, a more affordable alternative to naturally mined gemstones.
This type of gem's cut is not suitable for rings only. It allows large stones to be placed on jewelry, and lab grown emerald-cut diamonds are a great choice as a pendant or as the center stone for earrings. The lab created emerald cut diamond ring looks extremely exquisite due to the fact that lab created gems are clearer and higher in quality than natural ones. You can see it with your own eyes when comparing a similar-weight emerald-cut lab diamond ring with an item that contains a natural gemstone.
How to choose an emerald cut diamond
Lab grown emerald has a stepped rectangular cut with truncated corners and an octagonal outer shape. A lab created emerald cut diamond can be absolutely gorgeous. This cut has less play, however, and wider and brighter flashes of light. Exquisite and elegant, this shape is often used for ring frames. Also, a lab-created diamond or a mined diamond has all the same 4Cs (cut, color, clarity, and carat).
Due to the "openness" of the cut, cracks, low color, and low cut quality become visible even to the naked eye. Therefore, when buying a diamond in the shape of an emerald, it is extremely important to pay attention to the quality of the stone. With lab grown emerald diamonds, this feature will be as perfect as it is possible. In recent years, square emerald-cut man-made diamonds have become more popular.
The emerald cut diamond is the champion of popularity among royalty, politicians, and celebrities. Prince Charles' first love, Camilla Parker-Bowles, was rewarded for 35 years of waiting for their wedding with a luxurious emerald ring with diamonds. One of the most famous rings in the history of jewelry is the laconic and sophisticated ring, worth more than 4 million dollars, at the center of which is an emerald-cut diamond weighing 10.47 carats. This ring, framed by two baguette-cut diamonds, also became a royal gift from Prince Rainier III of Monaco. Legendary Grace Kelly.
When you are looking for an idea for your engagement ring, you can be inspired by celebrities emerald loose lab grown diamond shape rings designs. When choosing a lab created emerald cut diamond, the cost of such a ring will not be extremely high.
What Material Will Be Perfect for Your Lab Grown Emerald Cut Diamond Ring?
Of course, gold is the best metal for framing lab diamonds because these materials complement each other. But gold can also be different, and we suggest you focus on the color of the diamond itself. For example, yellow lab grown emerald cut diamonds will go well with lemon or yellow gold. And for diamonds of clear water, a lab grown emerald gold ring with pure white gold would be a good combination. If you combine lab diamonds with red stones in your ring or want a delicate and original pave ring, you can use rose metal.
By the way, the lab grown emerald diamond gold ring is not the only option. Today, rings made of pure platinum (which also resembles white gold but has a colder spectrum), titanium, bronze, and other metals are also popular. But classics are classics, and gold still does not give up its position as the leader in popularity among rings and other diamond jewelry, be it natural stones or lab-grown diamonds.
Lab grown emerald cut diamonds settings
The lab grown emerald cut diamonds are mainly used for inserts into rings, but they are no less magnificent in other products. Julia Roberts shone at the Golden Globes in earrings with emerald-cut diamonds. A cluster diamond pendant from The Incredible Collection with an impeccable 31-carat emerald-shaped stone was worn at the Academy Awards ceremony by the angelic Charlize Theron.
The lab grown emerald cut diamonds are a bright representative of the fancy stepped cut of a rectangular shape. A stone of this cut is magnificent in itself, and its beauty due to its strict form will not be excessive even when surrounded by other stones cut in the form of lab created emerald cut diamonds or baguettes.
Among the best ring settings for emerald lab diamonds, there are three-stone rings, a solitaire ring, and side-stone rings. Even a combination with rich pave technique can play brilliantly with it.
What is the price of lab grown emerald cut diamonds?
Emerald lab-created diamonds are not as traditional as lab grown round diamonds and not as fashionable as lab grown princess diamonds, which makes the cost of lab emerald diamonds not so high (compared to other cuts). When we talk about wholesale lab emerald cut diamonds, those will be the most affordable in price. Without special expert testing, you won't be able to tell it apart from a natural diamond.
To summarize all we've said about this splendid cut that is a lab-created emerald diamond, we can say that it is a worthy choice both for an engagement present and for casual jewelry. You can wear a cocktail dress to such events or even to some exclusive events with a strict dress code. Due to its popularity among celebrities and royalty, the lab emerald cut is always fashionable and stylish. It allows using big stones, and with lab-created diamonds, it looks deluxe.
Where can I Buy Emerald Lab Grown Diamonds in Dallas, Texas?
Emerald lab grown diamonds are the most popularly sold jewelry in our store. This lab-grown diamond fits perfectly on most engagement rings and might be the perfect one for you to buy. It makes no sense to compare prices for emerald lab grown diamonds with ordinary diamonds, since the price will be an order of magnitude lower, and they will sparkle and shine on the engagement ring in the same way. Only an experienced jeweler will be able to tell the difference between emerald lab diamonds and natural emerald diamonds.
You can turn to our contacts if you only have an engagement ring and are looking to buy an emerald lab-created diamond to make a wonderful composition. Our jeweler will help you make the perfect arrangement of a lab-grown emerald diamond with a ring. Having bought an emerald lab-grown diamond in our store, you will remain one of our happy customers and will be able to bring your idea to life.
Our jewelry store specializes in the sale of emerald lab-grown diamonds in Dallas, Texas. Our prices for these lab diamonds are flexible, and we can always help you find an emerald lab-grown diamond that fits your budget. So, you can shop for emerald diamonds in our store!
To schedule an appointment to see the showroom, our jewelry shop in Dallas, Texas, please go to our contact page or give us a call. Also, if you are unsure about the cut of a lab-grown diamond or which lab-grown diamond to select for your ring, you may visit our shop to receive detailed information on rings and diamonds before making a purchase decision.
FAQs Emerald Cut Lab Grown Diamonds
The emerald cut is a type of diamond or gemstone shape made to emphasize long parallel stepped cuts along with cut corners to create a kind of octagon shape. Although the cut of most emeralds is rectangular, there are square variations and these are called square emerald cuts.
1 carat emerald diamond prices range from $2,200 to $7,000 but have an average price of $4,500. The price for 1 carat emerald cut lab grown diamonds range from $1,000 to $3,300.
A 1 carat emerald diamond is approximately 6.68 × 4.95 × 3.22mm in size.