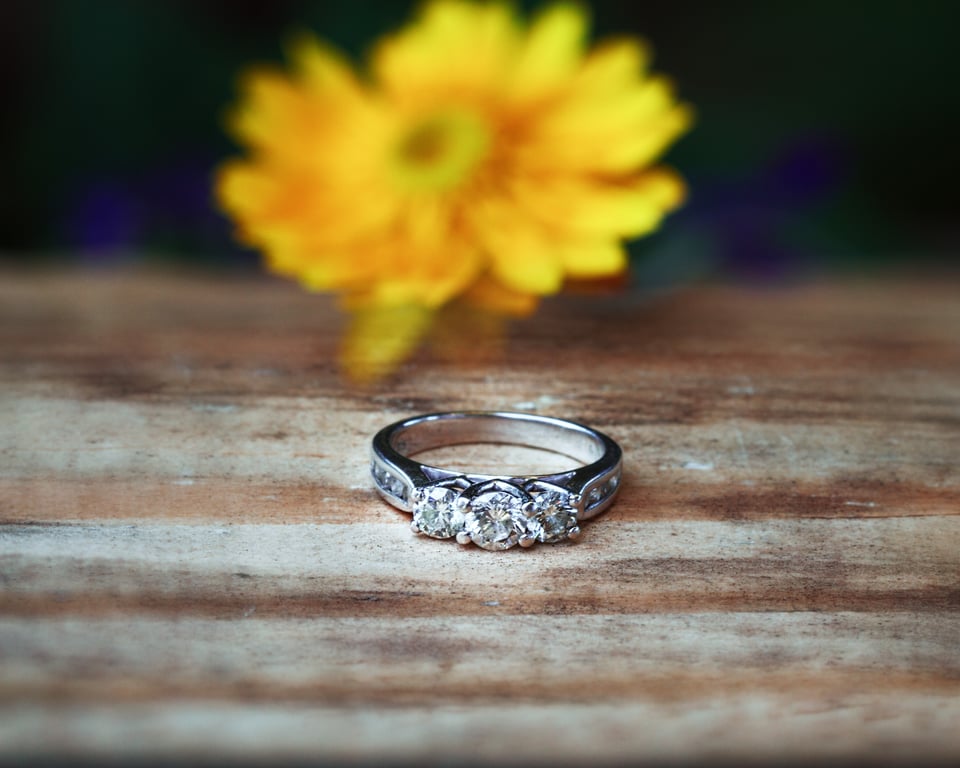 What does a three-stone engagement ring mean? In an era when all kinds of jewelry may seem casual and everyone seeks something very special to present to a beloved one as a sign of love, non-standard jewelry is on top. This term refers not only to creepy postmodern or futuristic items that are shown on the haute couture catwalks, but also to quite classy jewelry made from non-standard materials. For example, from lab-grown diamonds instead of natural gems.
Today, let's compare one of the most popular kinds of gold jewelry, which is a three-stone engagement ring, with its analog accompanied by lab-created diamonds. And to start with, let's get through the meaning of the three-stone lab created engagement rings.
This design is traditional, as it is common in almost every European country and in the New World too. The presence of three stones is undoubtedly a good sign. The three diamonds are associated with three phases of your relationship: past, present, and future.
3 Stone Lab Created Diamond Ring
One more thing you should know about a lab created 3 stone diamond rings is the power of the diamond itself.
The diamond itself is a symbol of purity, integrity, and consistency. The ancient Greeks believed that diamonds were the tears of the gods, while the Romans considered them to be fallen stars. Italians were the first to decorate wedding rings with diamonds. At first, these were signet rings with the family coat of arms, which noble aristocrats presented to their chosen ones as a sign that they were adopted into the family. Gradually, the engagement rings that are well known to us began to be adorned with diamonds. Eastern peoples believe that a couple who chooses a diamond for their wedding rings will be endowed with a happy and long joint destiny, and any troubles will be endured with enviable courage. And all these features are true not only for a 3-stone diamond ring made of naturally mined gems, but for lab-grown diamonds too.
So we can definitely say that lab-created three-stone engagement rings are always a good idea for a present for such a heartwarming date as an engagement.
Three Stone Engagement Ring Designs
Three stones in one ring at once is a good idea, not only because of their value. It is also an opportunity to experiment freely with the design of such rings. Here are just a few examples of original and popular three-stone engagement ring designs.
The classic version is three identical diamonds arranged horizontally in a thin gold ring in the very center. This format is ideal for fragile and young girls. Moreover, such a ring looks stylish and luxurious. Small stones are often used for this design, up to 1 carat in weight. However, in the case of laboratory-grown diamonds, you can also choose larger stones, fancy colors, or an unusual cut.
Rings with a large solitaire stone and two smaller stones on the sides are also classic wedding ring designs. It allows you to use different types and sizes of stones in one product. For example, you can experiment with combinations of blue sapphires and clear water diamonds or diamonds and emeralds. But rings with only diamonds in this design will also look beautiful and somewhat vintage.
Contemporary jewelry styles are laconic and original. And in this respect, an interesting solution would be a wide industrial-style ring with three stones located at equal distances from each other. Another original way to make these custom three-stone rings is to place stones on the inside of the ring. So you get a ring with a secret, and the outer part can be chosen from a combination of different types of metal or with engraving and enamel inserts.
It is not at all necessary for a wedding ring to place all three stones in only one horizontal plane. They can be made part of an exquisite composition. For example, they can be placed as the core of a cute gold flower, decorating fragile golden butterfly wings, or even included in an unusual abstract shape that adorns the ring. And this is also a worthy option for an engagement ring, and it's even very original.
You can come up with design options yourself or look in jewelers catalogs. Another good tip: admire the various vintage jewelry or exclusive pieces made for celebrities. You can repeat their ideas when ordering a ring, and the inclusion of lab-grown diamonds will make such a piece of jewelry affordable.
The advantages of a lab grown diamond three stone ring
Of course, such rings have many advantages. And we will now list which ones play the most important role.
Three stones can be positioned differently on the ring at once (take a look at our design ideas above).
3 stone lab-created diamond rings look quite traditional, which means that your grandmother will definitely approve of them.
At the same time, they are also very luxurious, because three diamonds are always more luxurious than one!
By using more affordable lab grown diamonds, you can opt for larger stones rather than being limited to miniature diamonds.
Likewise, the quality of stones grown in the laboratory is always higher than that of natural stones. They are more transparent, have fewer inclusions, and their color is higher on the color scale for diamonds. In general, according to the 4Cs, they absolutely beat natural stones.
In addition, lab grown diamond three stone rings can be considered truly eco-friendly because the process of making laboratory-grown diamonds does not harm the environment, does not use low-paid labor, and does not contribute to atmospheric pollution.
Visually distinguishing a lab grown diamond from a natural one is hard. Neither Paris Hilton nor some bridesmaids can tell it apart from a naturally mined stone. Even the most experienced jeweler can't do this. Differences can only be found if you conduct laboratory experiments, use multiple increases, or find a price tag on your ring.
So, there are many advantages to a three-stone lab-grown diamond ring, and this only adds to their popularity.
What are the most useful shapes for a three-stone diamond ring?
Now let's talk about the most interesting question: what shape and cut to choose for a three-stone lab-created diamond ring? To begin with, for diamonds in general, different types of cuts are used, from the conventional princess or round to the laconic emerald, the stylish cushion, or the fancy marquise. Therefore, in terms of shape, such rings can be very different.
An oval cut diamond three-stone lab diamond ring with a large oval diamond in the center is a good choice for long fingers. It can be combined with a very thin, almost invisible rim, or, on the contrary, choose a larger ring.
A round cut diamond and a three-stone lab-grown diamond ring—classic is classic. Three identical round stones or one larger in the center (perhaps even several times larger) look good on any girl.
Emerald cut diamond three stone diamond ring. If you watched the movie Curly Sue as a child, you are definitely familiar with such a cut. This is the ring the film's heroine had, and it still inspires many to choose just such a cut.
A princess cut diamond three stone diamond ring looks incredibly fancy. This cut will truly make your darling a princess and nothing else.
Pear cut diamond. Diamonds in the shape of a pear are spectacular, but they are also more provocative because such a cut is rarely used for small stones. Which means that there will be a large solitaire in the heart of the ring, which the girl will have to match.
Cushion cut diamond are no less exotic, but they are quite suitable for engagement rings. Similar rectangular shape to emerald, but much more facets make such stones especially exquisite. They are great for vintage jewelry and vintage engagement rings.
A three-stone pave engagement ring is minimalist and, at the same time, has a very beautiful shine. It is the location of the pave that is on the crest of fame today, and such rings will cause unequivocal delight.
Choosing a unique three-stone engagement ring with a lab-created diamond isn't too difficult thanks to the many cuts and designs, so just get creative, and you'll find the best for you.
Choosing metal for a three stone lab created diamond ring
If we are talking about traditions, then 30 years ago, a ring not made of gold would have been a challenge to society. But today, the best metal for a three-stone lab created diamond engagement ring can be different. Let's start with the fact that for diamonds, metal is just a frame, and the stones themselves are perfectly combined with different types of metal.
What are the most popular three-stone engagement rings today? Which of the three stone lab created diamond engagement ring metals is the best today?
Classic yellow gold is always in fashion. And classic three-stone engagement rings in yellow gold are a win-win option.
The exquisite white gold and lab-created 3-stone diamond ring looks very stylish on dark skin.
Classic three-stone engagement rings in rose gold look poetic and fashionable because this metal is very popular.
Platinum is not a cheap metal, but it looks cosmic, especially in modern designs.
Silver should not be discounted either, because it can look very aesthetically pleasing, and the cost of such a ring is very affordable.
Titanium today is also a suitable material, although it is difficult to call its products precious.
Whichever option you choose, the main thing is that the design and size of the ring fit your bride.
WHERE TO BUY LAB GROWN DIAMOND THREE STONE ENGAGEMENT RING IN DALLAS TX?
Three-stone engagement rings with man-made diamonds have their own sparkle and charm. Lab created diamond three stone engagement rings are only gaining momentum with new customers or those who own laboratory diamonds. In Dallas, Texas, you can come to our showroom and make sure you can find a three stone engagement ring for your type of laboratory diamond. Our Dallas jewelry store is focused on selling engagement rings to fit any form of lab-grown diamond, and you can be delighted with our selection and collection of engagement rings.
If you have not bought a lab-grown diamond yet, then you can buy one from us and at the same time choose a 3-stone engagement ring by its type. So that the laboratory diamond stands out against the background of a beautiful engagement ring! Also, you can order a custom engagement ring or the best three stone engagement rings from us! If you have not decided on a diamond for the shape of the ring, or you already have a diamond, but you want a unique engagement ring!
FAQs Three Stones Engagement Rings
Three stone engagement rings, also known as trinity or trilogy rings, are rings with three diamonds set horizontally in a row. Popular as both engagement and anniversary rings, there are several styles of three diamond rings to choose from.
The three stone engagement diamond ring is one of the most popular engagement ring styles because of its rich cultural history. A three stone ring is currently one of the most popular types of rings after the solitaire engagement ring.