CERTIFICATE/LAB
None
GIA
AGS
CGL
HRD
IGI
EGLUS
EGLI
GCAL
EGLSA
Poor
Fair
Good
Very Good
Excellent
Fair
Good
Very Good
Excellent
Poor
Fair
Good
Very Good
Excellent
Faint
Medium
Strong
V.Strong
Oval Cut Lab Grown Diamonds
Oval lab diamonds are a type of lab-created diamond that has been specifically cut into an oval shape. Like all lab-created diamonds, they are produced in a laboratory using advanced technology that replicates the high pressure and temperature conditions that occur deep within the earth's mantle, where natural diamonds are formed.
Oval lab diamonds are a popular choice for engagement rings and other jewelry, as they offer a unique and elegant alternative to traditional round or princess-cut diamonds. They are prized for their brilliance, fire, and sparkle and are often chosen for their elongated shape, which can create the illusion of a larger diamond.
One of the benefits of choosing an oval lab diamond over a natural diamond is that lab-created diamonds are more affordable and environmentally friendly than their natural counterparts. They are also conflict-free, as they are not associated with the negative social and environmental impacts of diamond mining.
When choosing an oval lab diamond, factors to consider include its cut, clarity, color, and carat weight, all of which can affect its overall beauty and value. Like all diamonds, oval lab diamonds require proper care and maintenance to retain their luster and brilliance over time.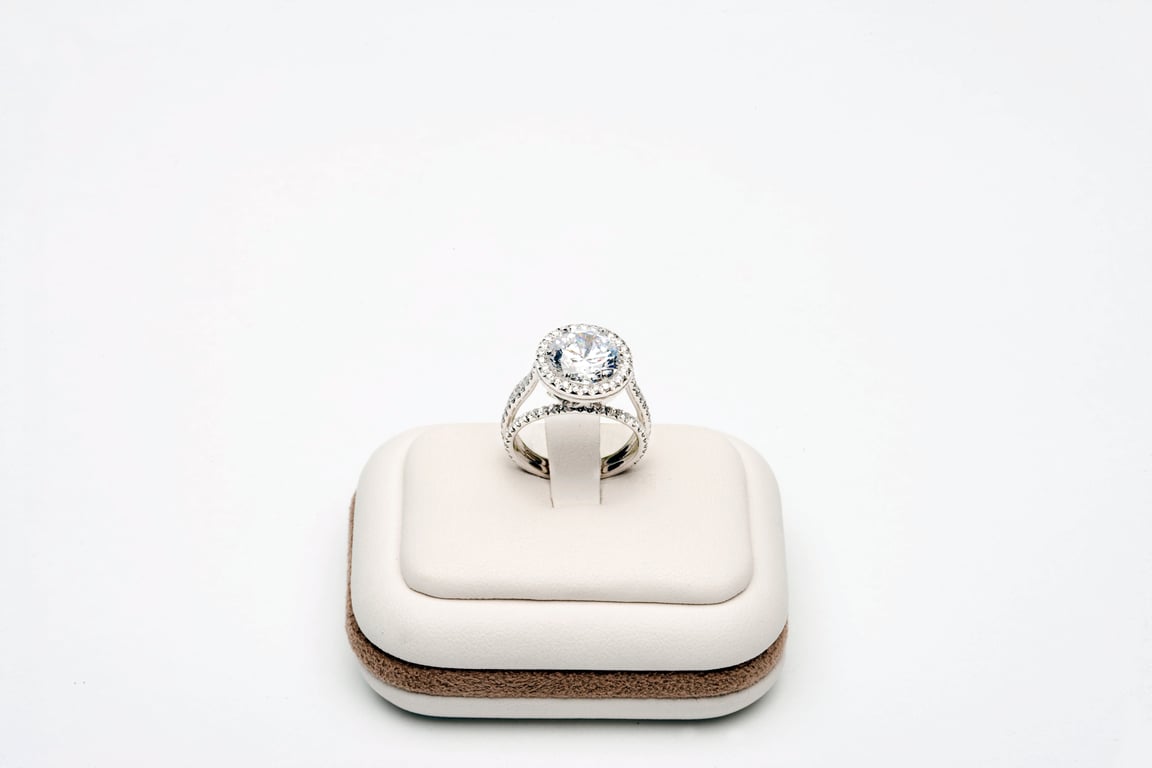 WHAT IS A Oval-CUT DIAMOND?
Choosing a gift for your future bride, which is commonly a ring, is an important deal. It should be exclusive yet comfortable to wear, and it should please your soul mate, of course. Today, there are no strict rules about how this special ring should look. It's all up to you. That's why oval engagement rings are no less trendy than the quite common heart-shaped, round, or emerald-cut models.
What is an oval-cut diamond? What is a lab grown oval diamond ring, you may ask? That is a piece of jewelry that is decorated with one or several gems or lab grown oval-shaped diamonds. Rings of this type are not as common as others, but they are gaining popularity due to their exquisite appearance and the size of the gemstone, which can be quite large.
Lab grown oval-cut engagement rings can be made of almost every kind of gem. The diamond is among the most common options. This oval lab grown diamonds allow a stone to enclose its unique features. Well, other oval-shaped rings are no less beautiful when they are decorated with rubies or even pearls, but the diamond is above all of them.
A lab grown oval diamond solitaire engagement ring that has a single large stone in the middle can be considered a real tradition-maker. But if you want to be exclusive and use a creative approach in your search for the perfect ring for your bride, there are lots of other oval diamond engagement rings that are worth your attention. For example, three-stone options of lab grown oval diamonds or a halo option with many small lab grown round diamonds surrounding the central oval diamond.
Lab Grown Oval Cut Diamond Guide
The lab-grown oval diamond is an elongated version of the lab-grown round gem. With exact proportions, such a stone is distinguished by excellent brilliance, scintillation, and sparkle. Even 1-ct lab-grown oval diamond rings are much more luxurious if compared to lab-grown round diamond cut rings of similar weight. There's nothing to say about a 5-carat lab-grown oval diamond ring that looks enormously rich in sparkles and its clarity.
What makes a lab grown oval-cut diamond so unique? Its shape, no doubt, as the lab-created oval diamond, is something in between a lab-grown round cut diamond and a lab grown pear cut diamond. It has 58 facets that, along with their location, add weight and size to each stone. The ratio is an important aspect of the lab grown oval shape, as it can have a significant impact on both the dispersion of light in the stone and its appearance on the finger.
When choosing even 1.5-carat lab grown oval diamond rings, it is significant to consider the benefits of a longer shape (higher ratio) and a more rounded shape (lower ratio). The first will lengthen the finger, and the more rounded shape will minimize the risk of the bow-tie effect. That's why 4-ct. lab-grown oval diamond rings of a longer shape are perfect if you want to make the palm look longer and more graceful. If the goal is not to visually correct the shape of the fingers or palm, lab created oval engagement rings of 2 carats or a 2.5-carat lab-created oval diamond ring will suit almost every girl.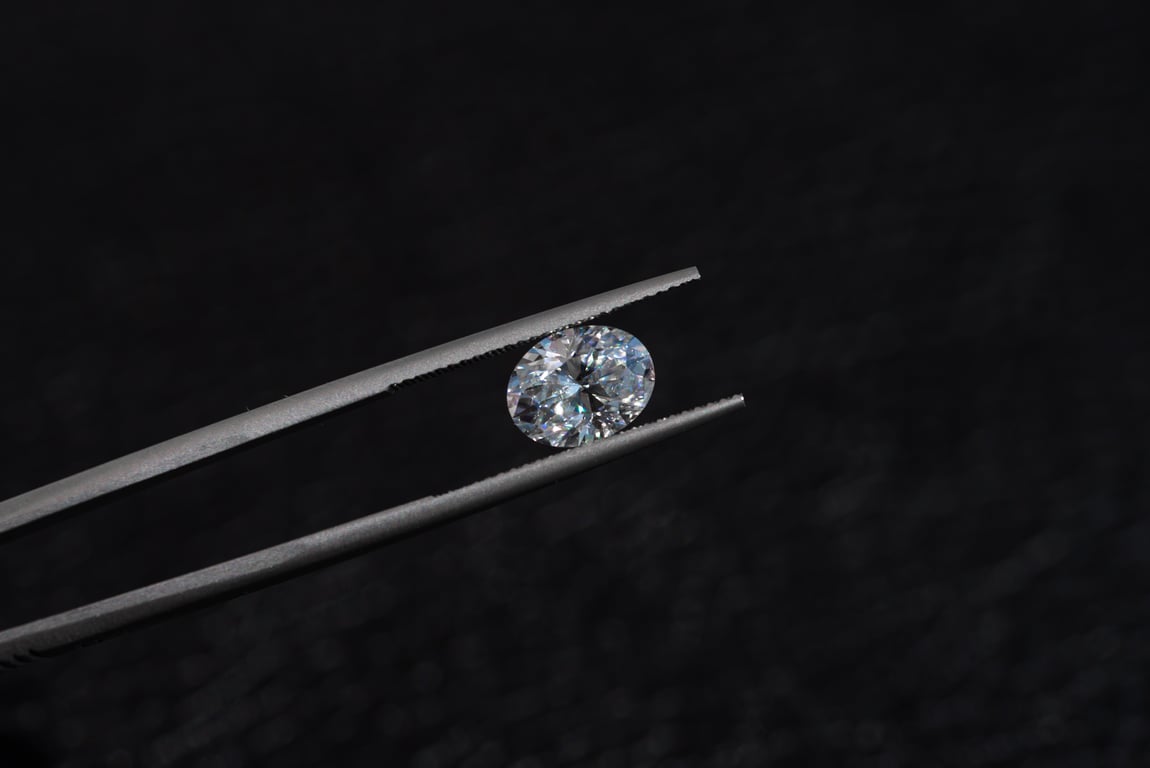 How much does an oval lab-grown diamond ring cost?
Of course, buying a naturally mined diamond is always a moment of prestige. But what should you say if you are offered to buy a ring with a gemstone that is fully similar to a natural diamond but at a more affordable price? Yes, we are talking about well-known and highly rated lab grown diamonds today! No one can definitely say whether it is a lab diamond or a mined one, as they have all the same 4Cs (cut, color, clarity, and carat). Even more, the bow-tie effect in lab diamonds is minimized. And their price can vary from twice or three times cheaper to even 10–12 times cheaper than the cost of a diamond ring of a similar size and setting.
Lab grown oval diamonds look gorgeous both in classical settings and in modern ones. That's why you are not limited in choosing settings for oval lab grown diamonds. It could be just a solitaire, a three-stone option, a halo, or a combo of a solitaire and pave setting. For lab grown oval diamonds, any ring setting is permitted.
Select the perfect metal for your oval diamond lab grown engagement ring
The stone is a must, but the metal is no less important. Today, the choice of metals for engagement rings does not include only conventional yellow gold. You may appreciate rose gold lab grown oval engagement rings that are tender and incredible at once. Besides the rose gold lab grown diamond oval ring, it is also a splendid idea to make it of white gold or platinum due to the cold white sparkle that accompanies the diamond. And for the traditional engagement event, a lab created oval diamond yellow gold engagement ring will be the best model ever.
Lab grown oval diamonds are not as common as lab grown princess or round diamonds. Yet they are outstanding, both with their shape, clarity, and sparkle. Only clear water diamonds look good in that cut, so they are quite rare in nature. And with the forces of a human intellect, today you are welcome to get your perfect oval loose lab created diamond shape with ease and for an affordable price. Just evaluate the beauty of these gemstones crafted by human power, and you'll be amazed with their quality and price at once.
Where can I Buy Oval Lab Grown Diamonds in Dallas, Texas?
Oval lab grown diamonds are the most popularly sold jewelry in our store. This lab-grown diamond fits perfectly on most engagement rings and might be the perfect one for you to buy. It makes no sense to compare prices for oval lab grown diamonds with ordinary diamonds, since the price will be an order of magnitude lower, and they will sparkle and shine on the engagement ring in the same way. Only an experienced jeweler will be able to tell the difference between lab diamond oval and natural oval diamonds.
You can turn to our contacts if you only have an engagement ring and are looking to buy an oval lab-created diamond to make a wonderful composition. Our jeweler will help you make the perfect arrangement of a lab-grown oval diamond with a ring. Having bought an oval lab-grown diamond in our store, you will remain one of our happy customers and will be able to bring your idea to life.
Our jewelry store specializes in the sale of oval lab-grown diamonds in Dallas, Texas. Our prices for these lab diamonds are flexible, and we can always help you find an oval lab-grown diamond that fits your budget. So, you can shop for oval diamonds in our store!
To schedule an appointment to see the showroom, our jewelry shop in Dallas, Texas, please go to our contact page or give us a call. Also, if you are unsure about the cut of a lab-grown diamond or which lab-grown diamond to select for your ring, you may visit our shop to receive detailed information on rings, diamonds, before making a purchase decision.
FAQs Oval Cut Lab Grown Diamonds
1 carat oval diamond prices range from $2,000 to $9,800 but have an average price of $5,000. The price for 1 carat oval cut lab grown diamonds range from $1,300 to $2,500.
A 2 carat oval diamond is approximately 10.23mm × 6.82mm × 4.16mm in size.