Engagement Ring Design Process
The Best Side Stones Engagement Rings
Jewelry stores have had a variety of engagement rings with side stones. Over the many years, the engagement ring has gone through many changes. The first recorded exchange of a diamond engagement ring was in 1477, when Archduke Maximillian of Austria proposed to Mary Burgundy. This exchange was more for the elite than anyone else. People could not afford such a luxury back then. It was around the 1840's that the engagement ring was recorded in the United States, but it was still uncommon. Sixty years later, the Edwardian Engagement ring became popular. A center stone with filigree, fine details, and small accent stones adorn the hand cut center stones. The Edwardian Engagement ring was the first recorded engagement ring that can be identified as a popular style in 1901-1910. From there, the engagement ring changed in orientation and style but they had one thing in common, a center stone flanked by side stones.
Decades of Changes Where Side Stones Make the Difference
After 1920 the engagement ring slowly became less art deco. Center stones were set in geometric shapes. Side stones were becoming surrounded in milgrain capturing a unique vintage engagement ring style.
The 1930s had a more blocky appearance. Side stone engagement rings were symmetrical with 90 degree angles, square settings with round diamonds as the center. The 1940's, perhaps due to WWII, was very similar to the 30's style. The 1940's engagement ring looked like a smaller version of the 1930's. Side stone engagement rings were simpler with less variation.
The 1950s gave way to larger center stones that had a much better cut. From here, the last 70 years had 2 main center stone shapes. One was a type of round and one that looks like today's cushion cut. The designs, however, still looked like the last 20 years.
The 1960s look like a variety of eras not being truly defined by a style. Wide bands with no side stones, side stone engagement rings with small centers, art deco designs come back. The lack of a defined style during the 60's gave birth to new concepts adopted in the 1970s.
In 1970 side stone engagement rings saw great changes in design using different shapes other than single cut round diamonds as side stones. Baguettes, and princess cut diamonds can be found in these new designs. Engagement ring design starts to look more varied with different shape center stones. Although, many of these designs appear thicker, these engagement rings start a new revolution in ring design that changes the look of engagement rings to come.
The 1980's and 1990s side stone engagement rings have more flowing channels of side stones where the side stones flow in slight curves than straight lines. And yet, many engagement rings of this era style use side stones to create width and definition not seen previously. These side stone engagement rings use fewer prongs that will continue into the 21st century.
Today's side stone engagement rings started to see its evolution around 2005. Previously, these rings were wider and had very little to no prongs. Becoming less popular, these wide rings gave way to side stone engagement rings with less width, more prongs, and National Designers take center stage in jewelry stores across the United States.
Today, many side stone engagement rings have a center stone with micro pave diamonds (small diamonds that are prong set in a straight row). Customers are looking for unique and they are finding it in the center stone. With the popularity of the oval and pear shape engagement ring and the increasing appeal of the marquise shape center stones, customers are adding smaller pear shapes or marquise as side stones. Customers now have more choices of center stones like lab grown diamonds and moissanite. Sofia Lior uses natural and lab grown diamonds as side stones in our hand crafted designs.
Side Stones Make or Break the Design
Customers are looking for UNIQUE, BIG, DAINTY, BEAUTIFUL. When choosing an engagement ring the side stones should complement the center stone and not take away from it. The side stones, if too large, can make the center stone appear smaller. Side stones can complete the look. For example, an emerald cut center stone with smaller emerald cut diamonds on each side. These side stones are generally larger than round diamonds used as size stones and complete the look like round diamonds cannot. With the popularity of oval engagement rings, customers have chosen a variety of designs.
Sofia Lior Promise
Sofia Lior designers painstakingly choose the appropriate side stones to complete the look of all of our side stone engagement rings. Your Sofia Lior engagement ring accommodates, lab grown diamonds or moissanites. For a complete look of our handcrafted engagement rings with side stones, please check out our online inventory at Sofia Lior Diamonds to find your perfect side stone engagement ring.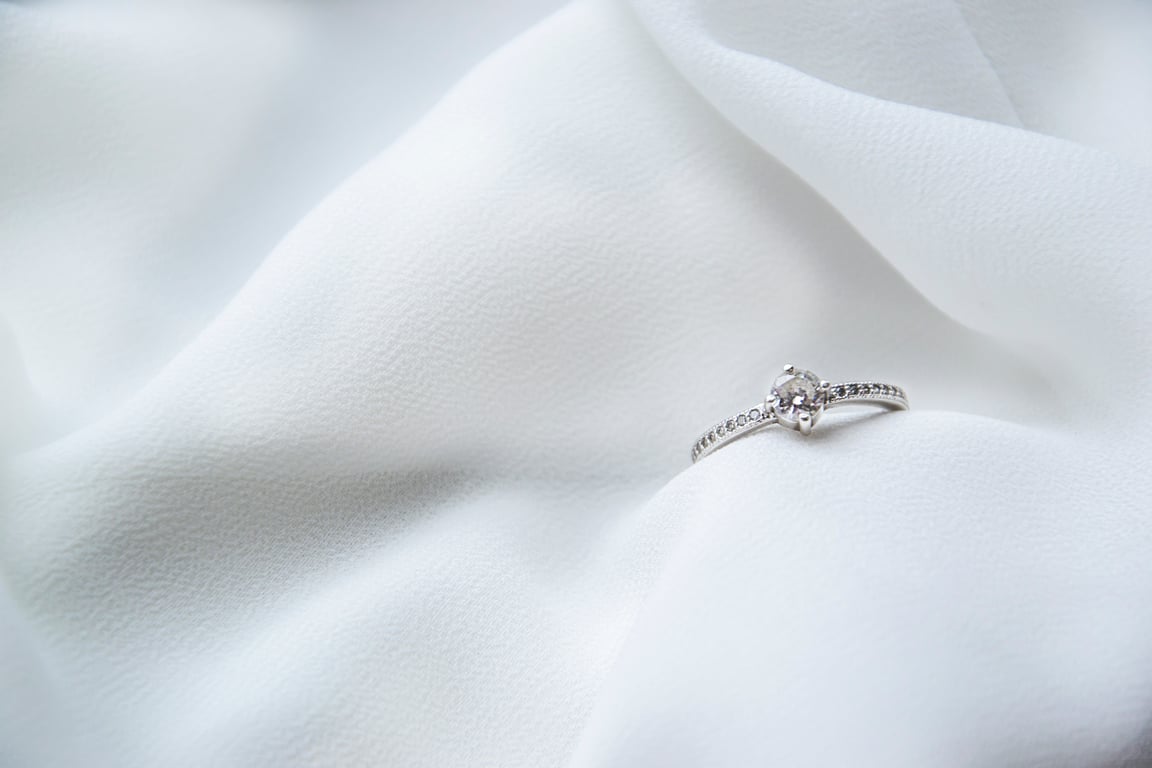 Side Stone diamond Rings With A Center Stone
Even in times when traditions were ruling the world and a center stone engagement ring was obligatory, options with multiple gems were also in fashion. As usual, they were of three gems, with one central gem of a bigger size. Other stones were smaller, but there was also an option with three stones of equal size placed in a row in the middle of a ring.
One more option was side stones with lab created diamond engagement rings and a central gem that was not a diamond but an emerald or a taupe with smaller diamonds by its sides. The quantity of stones surrounding the hole could vary from only two to a dozen or even more. Depending on a ring's width, side stones can also be placed in a single row or in a few rows.
Engagement rings with a center stone look luxurious and chic because their center gem always draws attention. Especially if it is a clear-water diamond of 2 carats.
What Are the Most Popular Shapes With Side Stone Engagement rings?
Let's start with gem's choice. It's not a must to get a diamond in a ring for a special event or a declaration of love. Be sure, other kinds of gemstones sometimes look even brighter and more exquisite. For example, you can prefer a diamond ring with emerald side stones to make the ring something special for you. Some people choose stones that match their future spouse's eye color: an emerald for green-eyed girls, a sapphire for a blue-eyed woman, or a taupe for a dark-eyed lover. Even more, no one can stop you from choosing other colorful gems for your ring. Especially if you are inspired by Art Deco traditions when deciding its design.
As for the shape of a ring, there are also lots of options from which to choose. It can be solid or open-worked and made of golden wire. Even solid options can also have engravings or notches on them. As for the gem's shape, there are also lots of variants. If it is a center stone ring with diamonds on the side stones, it could be of various shapes.
An oval engagement ring with accent stones is a good idea for a girl with long fingers. Its other stones can also be of an oval cut or of a more traditional round cut if they are less than 1 carat in size.
A princess cut engagement ring with accent stones looks fabulous due to its exquisite shine and the protuberant look of its central stone. For princess-cut engagement rings with side stones, it is also appropriate to make the side stones of a princess-cut look harmonious as an ensemble.
Emerald cut for side stone diamond rings can also work well. It is one of the most common types of rings specified for engagement, especially if the central gemstone is of a green or white color.
A round diamond engagement ring with side diamonds is conventional. So to choose it for a side-stone ring is also a brilliant idea.
Marquise-style side stone engagement rings are perfect for those who want to stand out from the crowd. These rings are suitable for those who choose new styles of rings.
There are no strict rules about the shapes of side stone engagement rings. You are welcome to choose it to your taste as there are lots of designs offered by jewelers. And to make a really deluxe present for your loved one, you can go further and buy a halo engagement ring with side stones.
Types of Side Stone Engagement Rings
What about engagement rings with more than one stone in them? There are also a variety of options available. As we've talked about a solitaire engagement ring with side stones earlier, you may choose it to make a chick present to your future wife. If this type of design seems too pretentious for you, here are some tips for choosing a more laconic style:
A pave ring with diamonds on the side stones is on the top today. It looks gorgeous, and the number of gems on it could be a couple of dozens. It is especially suitable for lab-grown diamond jewelry, as it looks like a million dollars but costs much less.
3 stone engagement rings with side stones are classy but not old-fashioned. As they are common, this choice is appropriate for those who adhere to traditions.
Exclusive-design rings are also a good choice. They will attract attention with their outstanding shape and the glimpse of gems in them. You even do not need to buy something extraordinary like a futuristic design. Just take a look at cushion-cut jewelry with side stones. You'll be surprised by how exclusive it looks.
Side Stone Engagement Ring Settings
So, when you've decided on the peculiarities of a ring and the number of its gemstones, let's think about where to get it. We'll give you some advice about that. If you want to get an exclusive piece of jewelry for an affordable price, choose a setting with lab-grown diamonds. They are equal to natural ones, having even more intense shine and sparkle. Even an expert can hardly define which diamond is lab-grown. So you can pay less for it and get the same quality. And with the money you save, you can spend it on something pleasant for your couple.
Where can I buy such a side stone ring? The answer is quite simple. Today, there are lots of jewelry stores providing their customers with high-quality pieces of jewelry with lab-grown diamonds of every size and shape they are interested in. To prove it, you are welcome to visit our Sofia Lior online store. Evaluate the perfect shine of diamonds in our engagement rings available in stock.
WHERE TO BUY LAB GROWN DIAMOND SIDE STONE ENGAGEMENT RINGS IN DALLAS, TX?
Side stone engagement rings with man-made diamonds have their own sparkle and charm. Lab created diamond side stone engagement rings are only gaining momentum with new customers or those who own laboratory diamonds. In Dallas, Texas, you can come to our showroom and make sure you can find a side stone engagement ring for your type of laboratory diamond. Our Dallas jewelry store is focused on selling engagement rings to fit any form of lab-grown diamond, and you can be delighted with our selection and collection of engagement rings.
If you have not bought a lab-grown diamond yet, then you can buy one from us and at the same time choose a side stone engagement ring by its type. So that the laboratory diamond stands out against the background of a beautiful engagement ring! Also, you can order a custom engagement ring or the best side stone engagement rings from us! If you have not decided on a diamond for the shape of the ring, or you already have a diamond, but you want a unique engagement ring!