CERTIFICATE/LAB
None
GIA
AGS
CGL
HRD
IGI
EGLUS
EGLI
GCAL
EGLSA
Poor
Fair
Good
Very Good
Excellent
Fair
Good
Very Good
Excellent
Poor
Fair
Good
Very Good
Excellent
Faint
Medium
Strong
V.Strong
Loose Lab Grown Diamond stones
Building an engagement ring with lab grown diamonds is a smart and ethical choice for those who want a stunning diamond ring without compromising on quality or their values. Lab-created diamonds are grown in a controlled environment that mimics the conditions that produce natural diamonds. They offer the same beauty, durability, and brilliance as natural diamonds, but at a fraction of the cost and with significantly less environmental impact.
When building an engagement ring with lab grown diamonds, you have the freedom to choose from a variety of shapes, sizes, and settings. Whether you prefer a classic round diamond, a trendy cushion cut, or a unique pear shape, lab grown diamonds offer endless possibilities for creating a truly personalized piece.
In addition to being cost-effective and environmentally friendly, wholesale lab grown diamonds are also free from the ethical concerns associated with mined diamonds. They are conflict-free and don't contribute to the exploitation of diamond miners or the destruction of local communities and ecosystems.
At Sofia Lior Diamonds, we offer a wide selection of wholesale lab grown diamonds that are certified by leading gemological institutes. Our expert jewelers can help you design a stunning engagement ring that captures your unique style and personality, using only the highest-quality wholesale lab grown diamonds and sustainable materials. Contact us today to start building the perfect engagement ring with lab-created diamonds that will dazzle your partner and stand the test of time.
Lab Grown Diamonds For Sale
Finding the right loose lab grown diamond can take a very long time. It is worth finding the right engagement ring and choosing the right loose lab created diamond. Our jewelry store has a large selection of lab created loose diamonds in Dallas, Texas, giving you the freedom to select the right diamond for your ring!
Lab grown diamonds purchases are of two types: either by visiting the jewelry store itself in person, or buying a lab grown diamonds online through a jewelry site. As a rule, everyone is looking for a bargain when buying loose lab grown diamond in jewelry stores that offer the best price. Our jewelry store can offer you a bargain price on lab created diamond, either for buying only lab grown diamond or for an engagement ring. Also, more often than not, a customer searches a jewelry store looking for wholesale lab grown diamonds to find a bargain purchase.
In our jewelry store, you can buy loose lab grown diamond for your engagement ring or separately if you have already chosen a ring. You can also buy lab grown diamonds online in two clicks, and the manager will call you back after the purchase to deliver the lab diamond to you.
When you buy from us, you will not only get a good buying experience in one of the best lab grown diamonds stores but also quality delivery services. Order lab grown diamond from us now!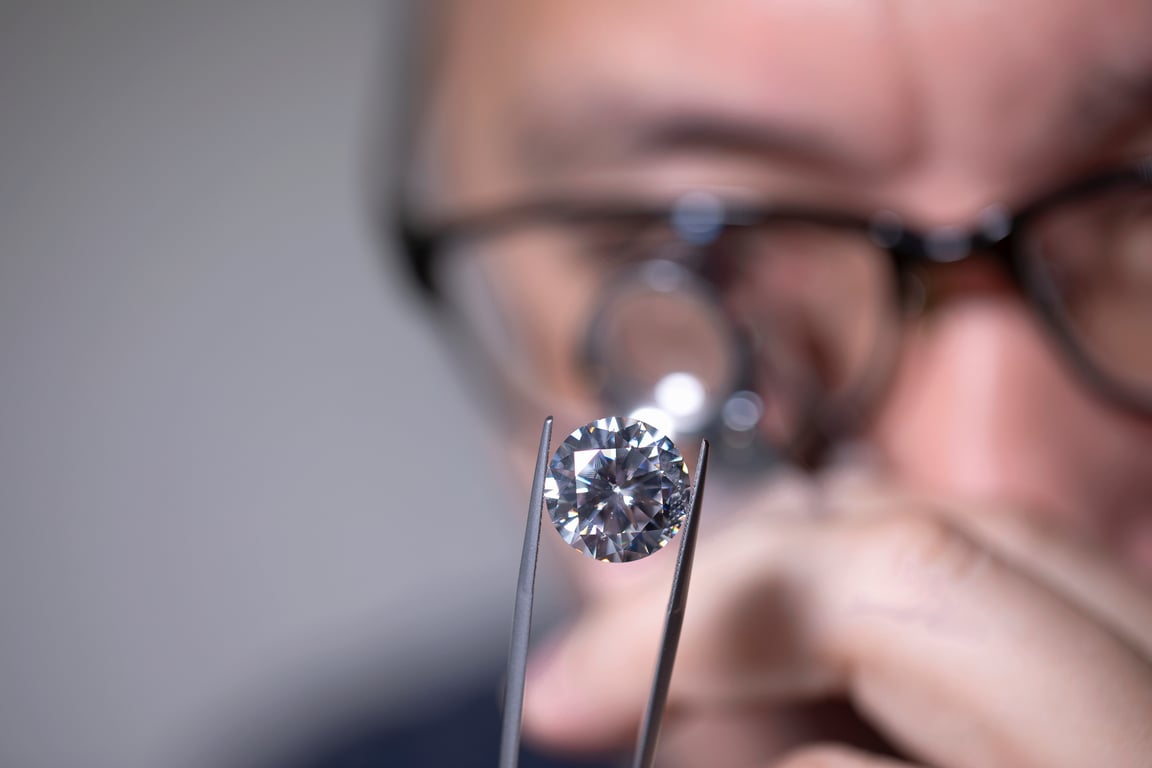 How to Buy the Best Loose Lab Grown Diamond Shape in Dallas, TX
If you have never bought loose lab grown diamonds, then we will provide you with a short guide to buying loose lab grown diamonds from our jewelry store.
Know the difference between cut and shape: not only do loose lab-grown diamonds come in different shapes, they also come in different cuts. It is important to understand this difference, as it will directly depend on the engagement ring and the final composition, which is what you want to see.
When selecting a lab-grown diamond, it is worth knowing about the 4Cs. This abbreviation, 4C, stands for color, clarity, carat, and cut. Understanding these properties will give you direction on what type of loose lab-grown diamond shape you want to choose.
Before buying a loose lab-created diamond, don't forget to say what kind or style of diamond you want to see in the end. The personal style of both the shape of the laboratory diamond and the engagement ring will give you exactly the composition that you want to see on the hand of a loved one or on your finger.
All loose lab grown diamonds must hold a certain certification and have a certain certificate. Before buying a loose lab-created diamond, always ask this question and ask for certification documents that will allow you to buy a natural loose lab-created diamond.
If you want to entrust the choice of shape and type of lab-created loose diamonds to experienced jewelry dealers selling lab-created loose diamonds, then you can contact our Sofia Lior Diamonds jewelry store.
The Most Popular Shapes of Loose Lab Grown Diamond in Dallas
The most popular question we get from our clients when they call us or come to the jewelry store is, "What loose lab-grown diamond shapes do you sell?" In our jewelry store, you can find not only lab-created diamonds of different shapes but also different loose lab-created diamonds by carat, color, and price.
You can buy such loose lab-created and lab-grown diamonds in our jewelry store:
How much do loose lab-grown diamonds cost?
Price means a lot. That is why the creators of lab created loose diamonds strive to distribute them as widely as possible. Because the cost of even a large stone of several carats will be lower than the price of the same diamond mined in a mine, for moissanites, the price will be many times, or even tens of times, lower. The price of a loose lab grown diamond can vary depending on the carat, shape, and characteristics of the diamond itself. In any other case, you can contact us, and we will offer you the best options for the price of buying a loose lab created diamond shape.
How are lab grown diamonds certified? Every diamond, whether natural or loose lab grown, is certified by leading diamond grading laboratories such as IGI, GIA, AGS, and EGL.
How are lab grown diamonds made? Loose lab grown diamonds are created using extreme pressure and heat inside a machine. After the diamond has cooled, it can be cut and polished. The loose lab diamond can then be graded for cut, color, carat, and clarity.
Should I buy loose lab grown diamonds, and why? Of course, it is a great way to get sophisticated jewelry for an affordable price. Even experts can hardly define which of the stones in a lab created loose diamond is which, and their diversity of colors and cuts allows you to get an exclusive piece of jewelry.
How do I order lab-created loose diamonds online? If you're in Dallas, TX, or another city, you can just order wholesale lab grown diamonds online directly from our site, Sofia Lior Diamonds jewelry store. If you appreciate high quality and impeccable service, the best choice is the Sofia Lior online store. Here, you can choose from a variety of gems and pieces of jewelry or have exceptional jewelry made on demand. Also, you can visit our store while in another city or location by making an application for the purchase of a loose lab grown diamond shape, an engagement ring, or a moissanite.
Where can I buy loose lab grown diamonds in Dallas?
Summing up, according to our positions on prices for various forms of loose lab diamonds and the carat weights, you can conclude that our store is one of the best stores for the sale of loose lab-grown diamonds in Dallas. We are number one as a team of diamond dealers in the sale of lab-grown loose diamonds of various shapes, both in terms of price and shape of such diamonds.
Contact us today, and tomorrow you will be the owner of a unique and beautifully sparkling loose lab grown diamond shape with an engagement ring that can make your wishes come true.
FAQs Loose Lab Grown Diamonds
Loose diamonds are diamonds that have been polished and cut, but they have not been placed in a setting. As a rule, they are added to engagement rings as a central stone.
You can buy loose diamonds from specialized jewelry stores that specialize in diamonds and jewelry. In our jewelry store Sofia Lior Diamonds you can buy loose diamonds by visiting or calling to us.
The price for 1 carat loose lab grown diamonds range from $800 to $1,000.
2 carats loose lab grown diamonds prices range from $2,000 to $20,000 but have an average price of $3,000.