CERTIFICATE/LAB
None
GIA
AGS
CGL
HRD
IGI
EGLUS
EGLI
GCAL
EGLSA
Poor
Fair
Good
Very Good
Excellent
Fair
Good
Very Good
Excellent
Poor
Fair
Good
Very Good
Excellent
Faint
Medium
Strong
V.Strong
Heart Cut Lab Grown Diamonds
Heart lab grown diamond stones are a stunning and ethical option for those looking for a romantic and sustainable piece of jewelry. Lab grown diamonds are created using advanced technology that replicates the conditions of the earth's mantle, resulting in a diamond that is chemically and physically identical to a mined diamond.
Choosing a heart lab grown diamond stone offers many benefits. Firstly, lab grown diamonds are a more sustainable and ethical choice than mined diamonds, as they are produced in a controlled environment using renewable energy sources. Additionally, lab grown diamonds are more affordable than mined diamonds, making them an excellent choice for those who are looking for a high-quality diamond without the high price tag.
When selecting a heart lab grown diamond, it is important to consider the 4 Cs: cut, color, clarity, and carat weight. The cut of the diamond determines its overall brilliance and sparkle, while the color and clarity affect its overall appearance and value. The carat weight refers to the size of the diamond, which can have a significant impact on the price of the jewelry.
Heart lab grown diamond stones can be set in a variety of settings, from classic solitaires to more elaborate designs featuring additional stones and intricate details. The heart shape makes it a popular choice for romantic occasions, such as engagements and anniversaries.
Overall, heart lab grown diamond stones offer a stunning and sustainable option for those looking for a unique and romantic piece of jewelry. Their brilliance, sustainability, and affordability make them an excellent choice for those looking to make a statement without compromising their values.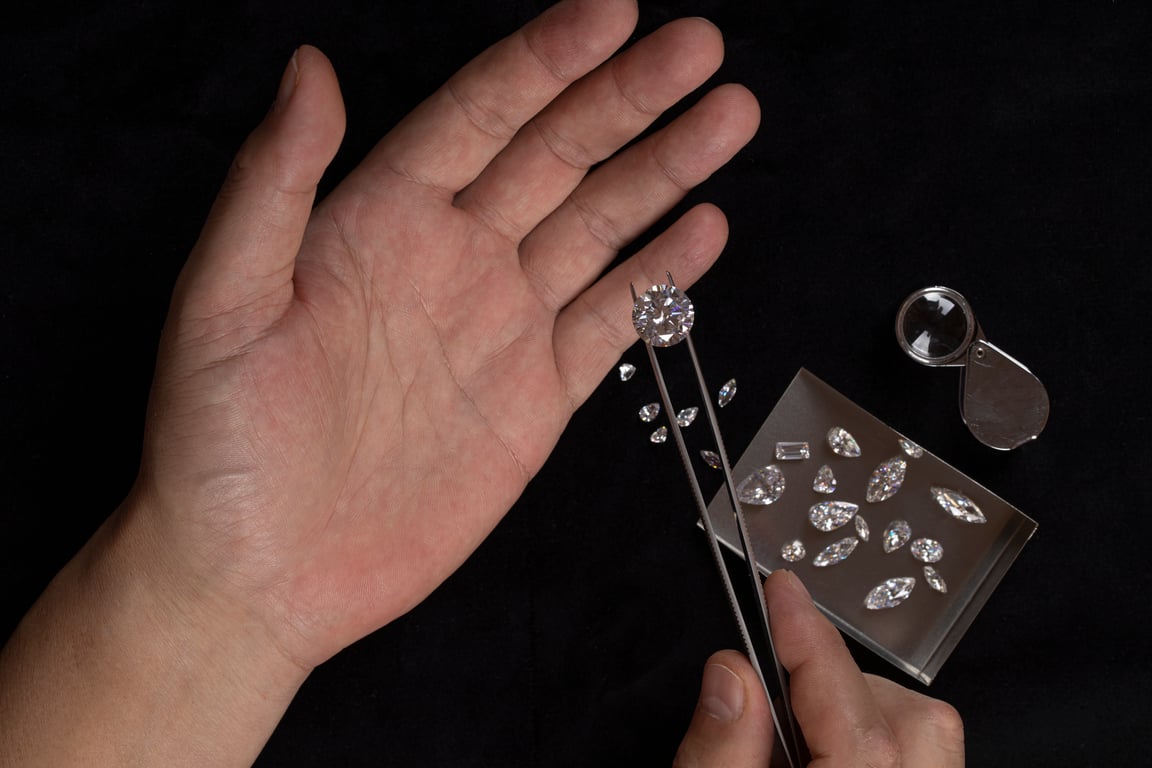 What could be more romantic and heartbreaking than a present for your loved one decorated with a lab grown heart-cut diamond? This kind of cut is among the most wanted worldwide, and no matter that, heart-shaped lab created diamonds are perfect for expressing your true feelings.
The tradition of cutting gemstones into the shape of a heart is not a new one. You may recall the popular jewelry necklace of the main character in the Titanic movie that was decorated with a pendant of a large tanzanite gem in the shape of a heart. And its prototypes were exclusive blue diamonds: Hope, which was owned by Louis XV, and a nameless blue heart shaped diamond of 13,75 carats that was sold at Christie's auction in 1995. In any case, even a 1-carat heart diamond looks splendid in its fantasy shape.
How to Choose The Right a Lab Grown Heart-Cut Diamond
This lab heart diamond is cut similarly to the lab grown round cut diamond, as well as the lab grown pear cut. The difference is the presence of a gap in the upper part of the stone. The top of lab grown heart cut diamonds can have 33–34 bevels, and the bottom can have 23 bevels. The thickness of the girdle should not exceed 3% of the height of the lab diamond, and the size of the area should be between 50% and 65%. A heart-shaped lab grown diamond of approximately equal length and width is required. Since in the original diamond, the ratio of length to width should fit in the range from 0.9–1.0 (wide upper part of the heart) to 1.2–1.0 (slightly elongated heart).
The advantage of a natural heart diamond is the ability to hide most of the natural defects of the diamond. Therefore, stones with low clarity and color can be used for this cut. The disadvantage of this cut is its complexity and the high cost of the cutter's work itself. Only a high-class master can make such a cut correctly. But for lab grown heart diamonds, this merit is not among the most important, as lab-created gems are mostly of the highest clarity and perfect color. That's why you can buy a heart shaped lab grown diamond online without any doubt about its qualities.
The color rating of a lab grown heart shaped diamond is highly subjective. In addition, it is with this type of cut that many prefer the warmer G-H colors that are of lower quality over colorless D-F diamonds.
The cut quality of a lab grown heart shaped diamond is determined by the strict symmetry of the facets. The light in a properly cut diamond of this type is concentrated on the edge.
These features should be considered when choosing jewelry with a heart loose lab grown diamond shape. And we can say that this cut is almost always looking great.
How much carat weight should a lab grown heart cut diamond have?
Heart shaped diamonds less than 0.50 carats are not a good choice, as at such small sizes the shape is difficult to perceive, especially when the stone is set in a setting. When we are talking about lab grown heart diamonds, there is no need to limit yourself to small gemstones only, as even a 5-carat lab-grown heart diamond will cost a low amount. As for the most popular carat rates, we can give you some advice about how to choose among them:
1-carat lab grown-heart diamond is a perfect idea for small earrings, especially ear-studs. They will underline the beauty of the girl's ears.
A 1.5-carat lab created heart diamond is also good for ear jewelry. You can also get it as a single pendant on a thin necklace or a jewelry line.
A 2-carat lab grown heart-shaped diamond can be used as the central stone of a ring, a remarkable charm on your jewelry, or a pendant, especially with a halo ring.
A 3-carat lab grown heart diamond is a stone that will catch your eye, so you are welcome to choose it or a 4-carat lab heart-shaped diamond for a ring setting.
Also, let's talk about lab grown heart diamond settings. There are lots of options that will look good with the lab grown heart cut diamonds. Of course, if you are not sure about the result, yellow gold will be your best option. It looks perfect both in modern-style jewelry and in vintage engagement rings. For yellow lab grown heart diamonds, it is actually the best frame.
Clearwater colorless gems will look exquisite with white gold. Blue diamonds are also a perfect match for white gold. And when it comes to jewelry for a Valentine's Day present, take a look at pink lab grown heart diamond rings. Especially when made of pink gold.
Where can I Buy Heart Lab Grown Diamonds in Dallas, Texas?
Heart lab grown diamonds are the most popularly sold jewelry in our store. This lab-grown diamond fits perfectly on most engagement rings and might be the perfect one for you to buy. It makes no sense to compare prices for heart lab grown diamonds with ordinary diamonds, since the price will be an order of magnitude lower, and they will sparkle and shine on the engagement ring in the same way. Only an experienced jeweler will be able to tell the difference between heart lab diamonds and natural heart diamonds.
You can turn to our contacts if you only have an engagement ring and are looking to buy a heart lab-created diamond to make a wonderful composition. Our jeweler will help you make the perfect arrangement of a lab-grown heart diamond with a ring. Having bought a heart lab-grown diamond in our store, you will remain one of our happy customers and will be able to bring your idea to life.
Our jewelry store specializes in the sale of heart lab-grown diamonds in Dallas, Texas. Our prices for these lab diamonds are flexible, and we can always help you find a heart lab-grown diamond that fits your budget. So, you can shop for heart diamonds in our store!
To schedule an appointment to see the showroom, our jewelry shop in Dallas, Texas, please go to our contact page or give us a call. Also, if you are unsure about the cut of a lab-grown diamond or which lab-grown diamond to select for your ring, you may visit our shop to receive detailed information on rings and diamonds before making a purchase decision.
FAQs Heart Cut Lab Grown Diamonds
1 carat heart diamond prices range from $2,000 to $9,300 but have an average price of $3,000. The price for 1 carat heart cut lab grown diamonds range from $1,150 to $2,250.
4 carat heart diamond prices range from $38,800 to $60,000 but have an average price of $45,500. The price for 4 carat heart cut lab grown diamonds range from $20,000 to $25,000.