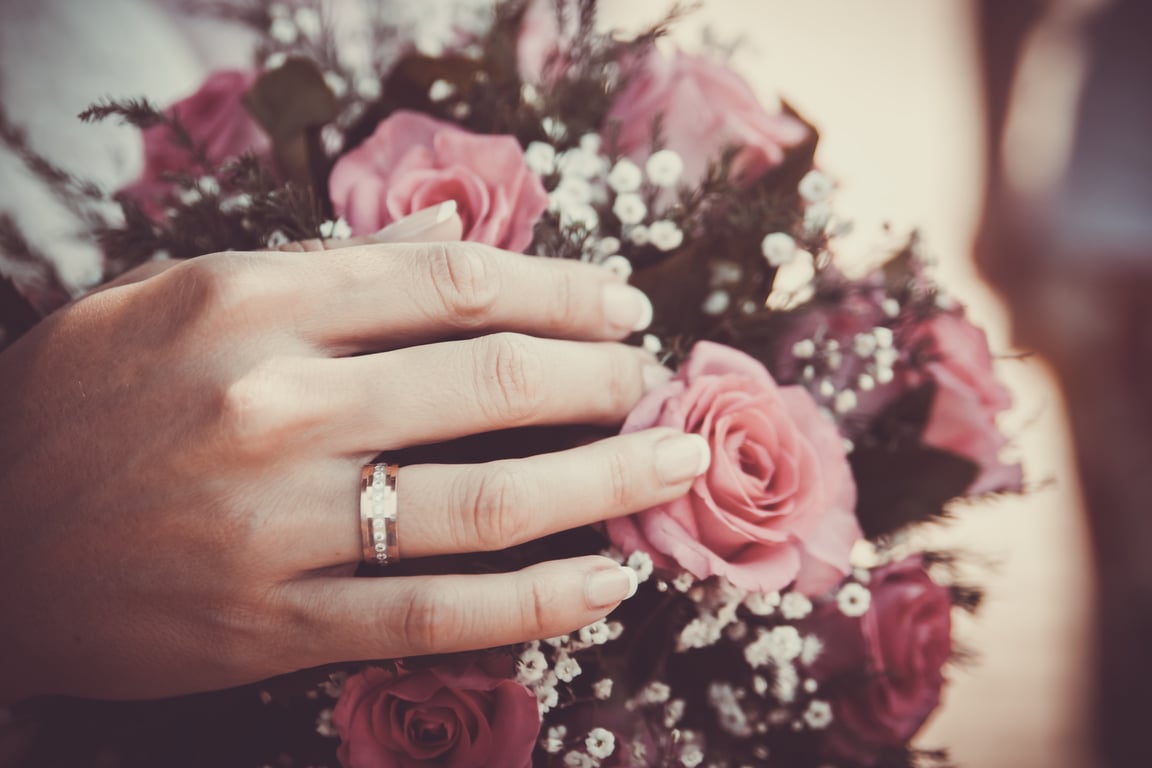 Lab grown diamonds are the same as earth-mined diamonds. Both are made of carbon and are optically, chemically, and physically identical. The difference is in how the diamonds are created. Natural diamonds formed under enhanced heat and pressure over billions of years and were pulled from the earth. Lab-grown diamonds are grown from a single carbon seed, slowly transforming into a crystalline structure. Cutting-edge technology like CVD or high-pressure temperatures is used to accelerate this growth. The lab process is equivalent to the natural process of growing diamonds. Just like in nature, no two diamonds are created the same.
When choosing between lab-grown diamonds and earth-mined diamonds for a vintage engagement ring, certain factors should be considered. Firstly, the price of a lab-grown diamond is, on average, 40% less expensive. Secondly, the term "blood diamonds" related to the natural diamonds describes the consequences of their mining with a negative impact on the local habitats and wildlife. And when it comes to a vintage engagement ring selection, it is truly important to have positive associations with it. Vintage-inspired engagement rings have their charm and brilliance with lab-grown diamonds in the style of modern vintage engagement rings or romantic vintage engagement rings. Let's take a closer look at these vintage rings below.
What do vintage engagement rings with lab-grown diamonds mean?
The term 'vintage' normally refers to engagement rings made over 50 years ago, although it is not a regulated industry term. Speaking of the vintage lab diamond engagement rings, of course, we relate to their vintage design, not to their old-time nature. People looking for a lab-grown diamond vintage engagement ring normally mean a vintage-style engagement ring setting.
Vintage engagement rings can be classified according to the era and fashions during these periods:
Victorian engagement rings (1835–1901) are very decorative and overly structured, normally with a large diamond surrounded by several smaller stones. Diamond solitaires became popular at that time. Rows, halos, and clusters determine the rings of that period. Yellow and rose gold were normally used for Victorian rings.
Edwardian engagement rings (1900–1920) are very ornate, intricate, and lacy with floral designs. 'Rose cut' diamonds are typical for the rings of that period. Edwardian rings are mostly platinum, including filigree metalwork.
Art Deco engagement rings (1920–1940) replaced Edwardian decorative and curvy rings with geometric shapes, sharp angles, and symmetry. New technology has created opportunities for jewelers to become more sophisticated. 'French cut' and 'trillion' cuts became common for the period. Platinum remained a typical metal for engagement rings.
Retro engagement rings (1940–1961) featured primarily diamonds due to the ambitious De Beers marketing campaign. Simple designs, large center stones, solitaire rings, and baguette side stones became common. Yellow and rose gold became the metals of the engagement rings due to the ban on non-military use of platinum during the Second World War.
What are the top diamond cuts for vintage engagement rings?
The round brilliant is considered to be the most popular shape of the engagement ring because of its eminent light performance. Among the other most popular options of the vintage diamond engagement rings for the brides:
Vintage princess cut engagement rings
Vintage oval diamond engagement rings
Three stone vintage engagement rings
Vintage emerald engagement rings
Vintage cushion cut engagement rings
Vintage round cut engagement rings
Vintage emerald cut engagement rings
Vintage Asscher cut engagement rings
Vintage marquise cut engagement rings
Vintage radiant cut engagement rings
Vintage pear cut engagement rings
Vintage heart cut engagement rings
Vintage baguette cut engagement rings
Design of vintage engagement rings with man-made diamonds
Our passion for vintage engagement rings begins with the amazing beauty of antique diamonds. Antique and vintage diamond engagement rings are what really captured our hearts, with all the diverse styles we see! The diamonds in these rings have old-cut faceting that is extraordinarily beautiful. The rings themselves always have a unique look with painstaking details, a low profile, and a style that is always relevant. Browse our collection of vintage and antique engagement rings and mark your engagement with a one-of-a-kind vintage ring set.
Why buy an antique engagement ring? An antique ring can be a perfect combination of art, history, and sustainability. Antique-cut diamonds have a very special scintillation not seen in modern-cut stones, and each ring is truly one of a kind. Choosing the right cut of the diamond engagement ring might be a true challenge. It would be best to start by asking the simple question of whether geometrical or curved diamonds, minimalistic style, or elaborate design are preferable.
How to choose vintage engagement rings: style, metal, carat
Vintage-style engagement rings will always attract a lot of attention from the bride because of their classic look and intricate details. Real vintage ring sets definitely have some sentimental and historical value about them. But with modern technology, any cut or style can be achieved when creating vintage-inspired engagement rings. Older rings were not crafted to face modern reality. Visual effect was the priority, while durability, especially before the Industrial Revolution, did not seem to be of great importance.
Today's high manufacturing standards raise the bar for jewelers to make not only sophisticated, but also everlasting engagement rings. Just as newlyweds wish that their alliance will last a lifetime, they want the same for their wedding rings. Vintage engagement rings with lab-grown diamonds will create such an opportunity. Vintage-style engagement rings can be personalized and adjusted to fit the style and size of the wearer, which normally cannot be done to the old engagement rings. They could be chosen in any metal: platinum, white gold, yellow gold, or rose gold.
Celebrity vintage engagement rings
Some celebrities wearing vintage engagement rings on their fingers set a trend for a particular cut for couples all over the world. Just like Carrie Bradshaw on "Sex and the City," wearing an octagonal-shaped asscher-cut diamond ring attracted fashion-conscious people to the style. John Krasinski proposed to Emily Blunt with an Edwardian-style, 3-carat diamond ring from a celebrity jeweler, Neil Lane. Another creation of the jeweler for model and actress Mila Jovovich is a 19th-century gold ring with pink, yellow, and white diamonds placed vertically.
Ashlee Simpson and Evan Ross chose a ring from the vintage collection of Neil Lane. The couple modified the design and received an art deco ring with a marquise diamond surrounded by rubies. Scarlett Johansson was proposed to by Romain Dauriac with an art deco platinum ring with a round diamond and two smaller diamonds placed vertically. It's both antique and modern, definitely looking great on Scarlett!
We encourage you to be inspired by the celebrities and choose the very best for the special day to make the moment memorable. Combining the best traditions with an innovative approach is part of the 'something old, something new' idea, and vintage engagement rings with lab-grown diamonds symbolize the concept in depth.
WHERE TO BUY LAB GROWN DIAMOND VINTAGE ENGAGEMENT RING IN DALLAS, TX?
Vintage engagement rings with man-made diamonds have their own sparkle and charm. Lab created diamond vintage engagement rings are only gaining momentum with new customers or those who own laboratory diamonds. In Dallas, Texas, you can come to our showroom and make sure you can find a vintage engagement ring for your type of laboratory diamond. Our Dallas jewelry store is focused on selling engagement rings to fit any form of lab-grown diamond, and you can be delighted with our selection and collection of engagement rings.
If you have not bought a lab-grown diamond yet, then you can buy one from us and at the same time choose a vintage engagement ring by its type. So that the laboratory diamond stands out against the background of a beautiful engagement ring! Also, you can order a custom engagement ring or the best vintage engagement rings from us! If you have not decided on a diamond for the shape of the ring, or you already have a diamond, but you want a unique engagement ring!
FAQs Vintage engagement rings
No, antique rings are rare, they are crafted centuries and thousands of years ago. Vintage ones are at least 30–50 years old, while vintage-styled are new pieces of jewelry with the same design as antique or vintage jewelry.
This is a setting for a gemstone with V-shaped prongs that make a diamond bigger and more visible from the sides.
This is a type of setting that was natural for antique rings with small gems placed in a special order.
All your wishes could come true when you order a custom-made ring. You can add some modern features to your vintage-style ring, and a skilled jeweler will offer you the best advice on how to combine these techniques.