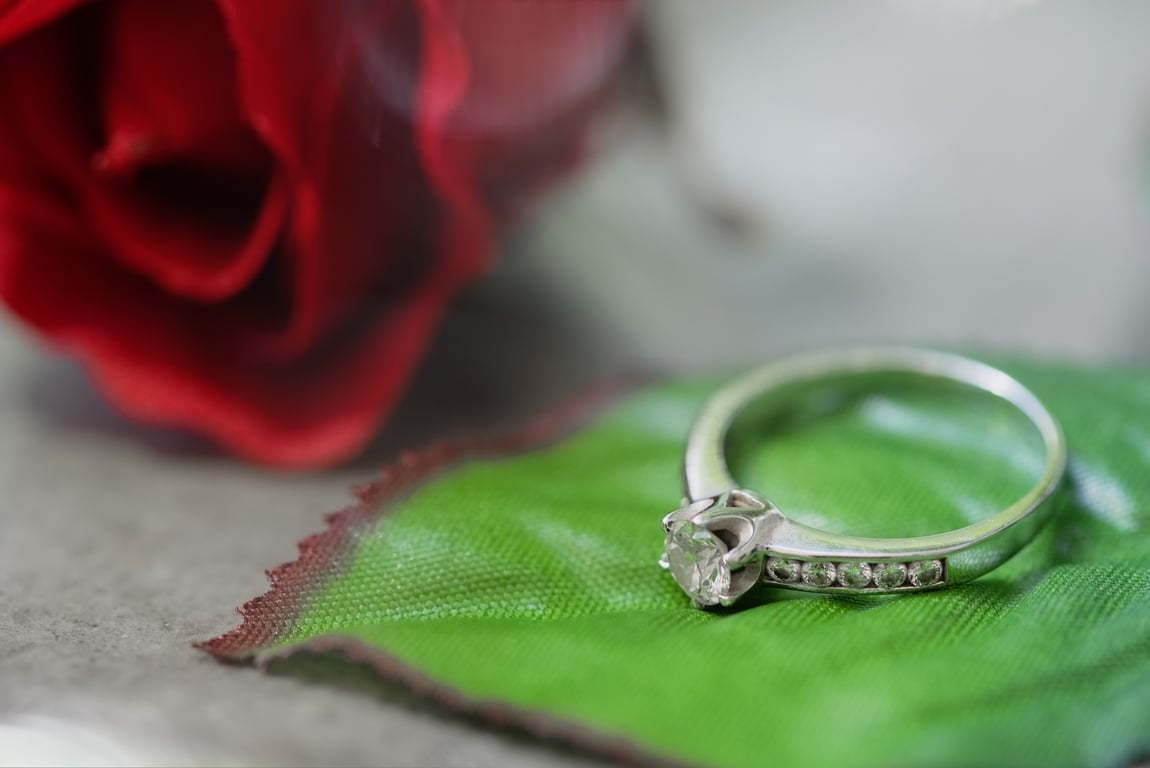 The original design and unusual look are important qualities for jewelry. Especially when it comes to engagement rings. Despite all the tradition that is adhered to by such jewelry, who wants to wear exactly the same ring as dozens of friends or their best friend? Of course, no one! Moreover, it is in the engagement ring that all the love and expression of feelings is usually concentrated, which means that the standard ring will have little expression.
Want to show the full range of your emotions towards your soul mate? Choose custom-designed engagement rings or custom lab-grown diamond rings!
Why Choose A Custom Designed Engagement Ring?
Custom lab created diamond engagement rings are a huge field for imagination and implementation of the most daring ideas. They are chosen for several reasons:
If you want the design of your ring to remind you of any important symbol, event, or memorable gift, you can organically incorporate this symbol into the design of your engagement ring.
If you need to select a piece of jewelry for a non-standard finger size, for example, fingers that are too thin or, on the contrary, for the owner of a wide and chubby palm, ordering a ring with an author's design will be the best solution.
You can offer your ideas or even sketch an exclusive ring, and then you will be sure that no one else in the world will have it.
The reasons may be different, but the fact remains: custom-made engagement rings are very popular today. They are chosen by both celebrities and ordinary people because a piece of the soul of the author and the customer will always be invested in such a design.
Can I Design My Own Custom Engagement Ring?
This option is quite necessary. There are some online constructors that will be at your disposal to create your own design. Or, maybe, you can try your skills in any designer's software to do this. But if this way of designing is hard for you, there is also no problem.
You can collect all your ideas, text them, or draw them by hand to show a professional jeweler or jewelry designer. Taking all the tips into account, a pro will sketch you a layout or some layouts of your future custom engagement rings. All you need after that is to choose the sketch that is the most precise to your ideas and to order rings.
How do I buy custom engagement rings online? Today, you do not even need to Google for custom engagement rings in Dallas. There is a convenient option to get the real masterpiece right after ordering it online. On the Sofia Lior website, you can get all the necessary information on how to buy custom engagement rings online. Get a quote to contact us and to get the most perfect engagement ring you've ever seen.
How Much Does It Cost to Make a Custom Engagement Ring?
This question directly depends on what kind of ring you want. In comparison, a laconic flat ring without stones or engravings will cost less than custom-made engagement rings with gems in the same size. Consider factors that affect cost:
Ring width: the wider it is, the more metal will be used to make it.
The material from which the ring is made: silver is inexpensive, gold of different colors has different prices, and platinum is the most expensive.
Of course, gemstones are present, and the classic is a diamond ring. But today, there is nothing surprising about engagement rings with sapphires, topaz, emeralds, and even pearls. If you want to follow the classics but not spend a fortune, you can choose custom moissanite engagement rings.
The complexity of the design and the techniques that the jeweler will use It is easier to make a solid ring than forge an openwork ligature from the finest wire, and fixing a solitaire is easier than making a pave ring.
These are the factors that will affect the final price of your rings. In addition, the cost may increase due to the urgency of the order as well as due to the popularity of the jeweler or company you contact.
What carat weight should an engagement ring have?
There are no clear recommendations here, except for the wishes of your soul mate. Some people think that the larger the diamond in the custom lab-created diamond ring, the better. But in reality, this is not always the case. Indeed, in a diamond, size is not the most important characteristic: depending on the color, cut quality, and presence of inclusions, a large diamond may sparkle somewhat worse than a smaller one, and it is for the sparkles of light that we value diamonds. Therefore, for the same money, you can buy either a large "low-sparkling" diamond or a smaller one that sparkles very brightly. In our opinion, you should never sacrifice quality for size.
If the size of the stone is important to your girlfriend, it may be worth paying attention to custom lab diamond engagement rings. Gemstones like that, even with many carats, are distinguished by higher purity and color, and only an experienced jeweler can distinguish them from real ones.
Personalize Your Own Custom Engagement Ring
If you want to make your engagement ring truly unique, it is worth considering how it can express your character or that of your beloved. Here you should focus on the girl's taste and wishes. For example, if she loves laconic Tiffany-style custom-made diamond jewelry, consider a similar design. And you can diversify and personalize it in a variety of ways:
Engrave your names on the outside or inside the custom lab created diamond rings. Or choose a phrase that characterizes your love: "This decor looks very stylish, and it fully reflects only your feelings".
Come up with an original secret, for example, ask the jeweler to place a small heart-shaped diamond on the inside of the rings.
Love modern design? Try making your rings fit together: for example, using a thread with which you can screw one ring onto another or using metal frames for stones, which will fold into one symbol when the rings touch.
There are many options, and when choosing rings to order, you can choose the right one together with the designer.
Custom Engagement Rings Types
When choosing the type of engagement ring to order, there are virtually no restrictions. All standard and popular types can be customized, and the result is an unusual decoration. Most often, buyers choose these custom lab-grown diamond rings:
Solitaire engagement rings.
Pave engagement rings.
Three stone engagement rings.
Vintage engagement rings.
Halo engagement rings.
Let's talk about the last two options for custom gemstone engagement rings in more detail.
Custom vintage engagement rings. Vintage is always in fashion. Jewelry in the spirit of the Victorian, Art Deco, or Romantic eras looks luxurious and expensive. If you have family jewels leftover from your great-grandmother, you can get inspired by them when designing your custom lab-grown diamond ring. Alternatively, you can look at the museum exhibits of such jewelry—their luxury and play of stones will definitely push you on the right path.
Custom halo engagement rings. The halo effect in the custom engagement rings with lab-grown diamonds looks incredibly beautiful. Due to the decoration along the perimeter of a large stone with small stones, the shine is enhanced several times. In addition, with this type, you can come up with many options because you can choose the type of stone, its color, size, cut, and only after that pick up the same or contrasting-colored miniature stones for the halo. And by the way, such a ring at a fairly reasonable price will look like a million-dollar one.
WHERE TO BUY LAB GROWN DIAMOND CUSTOM ENGAGEMENT RING IN DALLAS, TX?
Custom engagement rings with man-made diamonds have their own sparkle and charm. Lab created diamond custom engagement rings are only gaining momentum with new customers or those who own laboratory diamonds. In Dallas, Texas, you can come to our showroom and make sure you can find a custom engagement ring for your type of laboratory diamond. Our Dallas jewelry store is focused on selling engagement rings to fit any form of lab-grown diamond, and you can be delighted with our selection and collection of engagement rings.
If you have not bought a lab-grown diamond yet, then you can buy one from us and at the same time choose a custom engagement ring by its type. So that the laboratory diamond stands out against the background of a beautiful engagement ring! Also, you can order a custom engagement ring or the best custom engagement rings from us! If you have not decided on a diamond for the shape of the ring, or you already have a diamond, but you want a unique engagement ring!
FAQs Custom Engagement Rings
Most bridal jewelry brands make custom engagement rings, so if there is a particular designer you like and love, contact them and inquire about the custom process and price range. Also, you can order a custom engagement ring in our store according to your desires!
On average, it takes about 2 weeks to make a custom engagement ring. The most time-consuming aspect of the whole process is usually the design process, which means that very complex designs or the need to make many changes can significantly reduce the time frame.
The price for a 3 carat engagement ring range from $18,000 to $85,000.
The price for a 5 carat engagement ring range from $25,000 to $150,000.