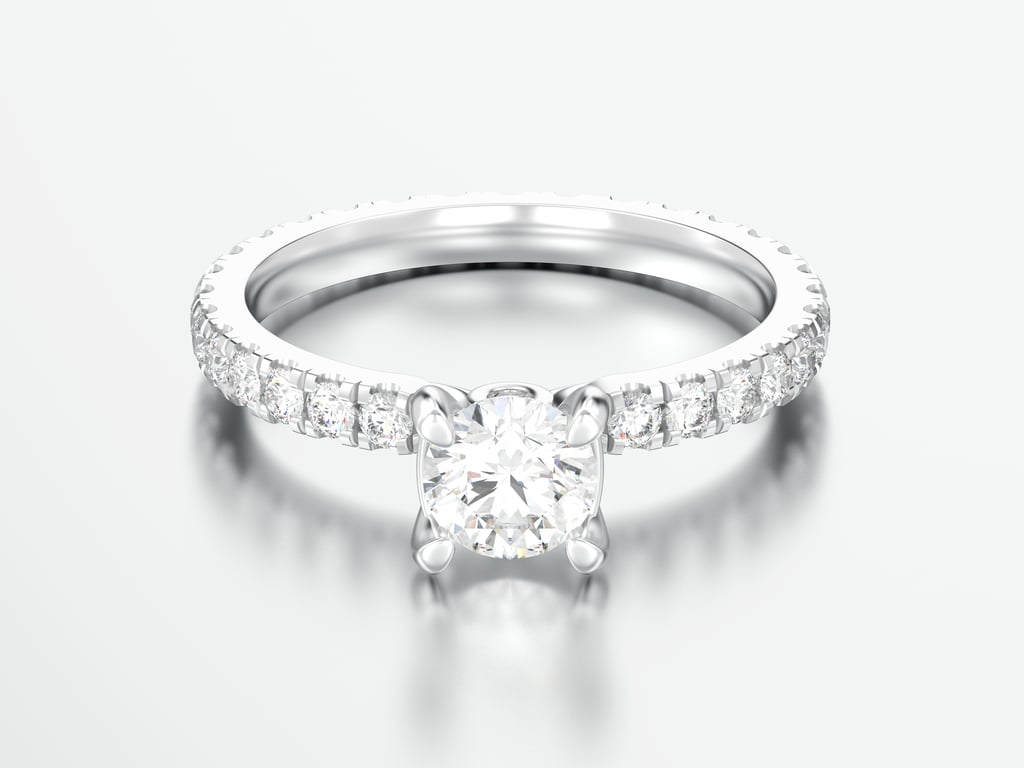 Pave is a frame of gemstones arranged in such a way that the piece of jewelry appears to be paved with them. That's why it is called so. The stones in this pave engagement ring frame are held in place by small prongs that look more like tiny beads of metal.
This method of setting gems, beloved by many, involves an almost invisible setting. Imagine how myriads of snow-white diamonds are combined in a single composition, that sparkles with millions of highlights, like snowflakes. They create a breathtaking effect, so don't be surprised that pave diamond engagement rings create the most sparkling jewelry! Jewelers, who are fluent in the art of inlay work, work with minerals of any shape. Despite the fact that round stones are the most commonly used, a jeweler can create a precious surface from stones of almost any cut. One of the most popular shapes right now is the oval pave engagement ring.
What are pave engagement rings? Choosing a lab created engagement rings is always a bit of a hustle, but a very joyful process. And today there is no need to select only from standard classical designs because there are lots of unique and good-looking rings that are looking unusual but pretty. If you need to compare pave engagement rings with something, they look like a sparkling wreath of ice drops. Such an effect is made by precise jewelry masters who inlay gold or platinum with dozens or even hundreds of diamonds using the pave technique.
The pave technique is a complex method that requires a jeweler's talent and skills. Gems need to be fixed on one level, and for the round cut diamond shape of a ring, it's not a piece of cake to reach such perfection. That is why pave diamond engagement rings are always highly evaluated by experts.
Why are lab-grown diamond pave engagement rings the best choice?
The stones commonly used for pave diamond engagement rings are diamonds. But jewelers don't stop with natural gemstones. Today, it is increasingly common to see luxury jewelry made from lab grown diamonds. Why are these gemstones so successful?
In laboratory conditions, it is much easier to grow a diamond of exactly the shape and clarity that a jeweler requires.
Accordingly, the cost of such diamonds is much higher, which means that the total cost of the ring will be quite affordable, even if dozens or even hundreds of stones are used for it. Compare the price with that of a similar ring made from natural diamonds, and you will see a significant difference.
At the same time, even an expert will not be able to visually determine which diamonds are used in your ring.
And also, cultured diamonds have a more pronounced brilliance than natural ones.
PAVE Engagement Ring Settings for Every Shape of Lab Diamonds
There are several ways to set stones using the pave technique.
Micro pave engagement rings are a technique in which stones are arranged in close rows to completely cover the surface of the ring. It feels like there is no metal in the ring at all, but it is created from only miniature diamonds, which are held together by magic and not otherwise.
A french-cut engagement ring pave also uses rows of gemstones, but they are set in such a way to reflect the maximum amount of light. For this, each set is made in a V-shape.
Petite pave engagement rings are made of one row of diamonds. Being a maximum of 1.5–2.0 mm wide. It looks gorgeous and airy.
PROS AND CONS OF A PAVE ENGAGEMENT RING SETTING
Let's underline the main pros and cons of pave setting!
Pros of pave engagement rings:
Such a ring reflects light amazingly, and it looks luxurious.
The variety of techniques allows for choosing a ring of any width and with any number of gems on it.
Pave setting is trendy, and it looks up-to-date.
The cons of pave engagement rings
There are not many of them, actually. The main one is that you cannot enlarge the ring's size due to the large amount of gems.Pave engagement rings with lab-grown diamonds are a good choice for engagement. Every bride will look extremely incredible wearing it.
For a wedding proposal that will truly make her jaw drop, choose from one of Sofia Lior's many stunning lab-created diamond pave engagement rings. A definite tribute to the exquisite beauty of diamonds, our pave engagement ring settings surround your perfect center stone with a breathtaking band of diamonds that glitter and shine all the way around your bride-to-be's finger. Sofia Lior's pave diamond engagement rings give the illusion of a solid diamond surface (rather than just the gold or platinum band). Each diamond is intricately set using tiny beads or prongs so that very little of the metal band shows and the glorious diamonds appear to be freestanding. Our lab-created diamond pave engagement ring settings generally look best with our princess-cut or cushion-cut engagement rings.
WHERE TO BUY LAB GROWN DIAMOND PAVE ENGAGEMENT RING IN DALLAS, TX?
Pave engagement rings with man-made diamonds have their own sparkle and charm. Lab created diamond pave engagement rings are only gaining momentum with new customers or those who own laboratory diamonds. In Dallas, Texas, you can come to our showroom and make sure you can find a pave engagement ring for your type of laboratory diamond. Our Dallas jewelry store is focused on selling engagement rings to fit any form of lab-grown diamond, and you can be delighted with our selection and collection of engagement rings.
If you have not bought a lab-grown diamond yet, then you can buy one from us and at the same time choose a pave engagement ring by its type. So that the laboratory diamond stands out against the background of a beautiful engagement ring! Also, you can order a custom engagement ring or the best pave engagement rings from us! If you have not decided on a diamond for the shape of the ring, or you already have a diamond, but you want a unique engagement ring!
FAQs Pave Engagement Ring
A pave setting is a ring setting with small diamonds along the band of the ring. The French word translates as "paved", and this jewelry technique was so named because it resembles a paved or cobbled road.
Pave rings are really difficult to resize. Only experienced jewelers can resize a pave ring without losing quality. The complexity is made up of small diamonds covering the entire ring.