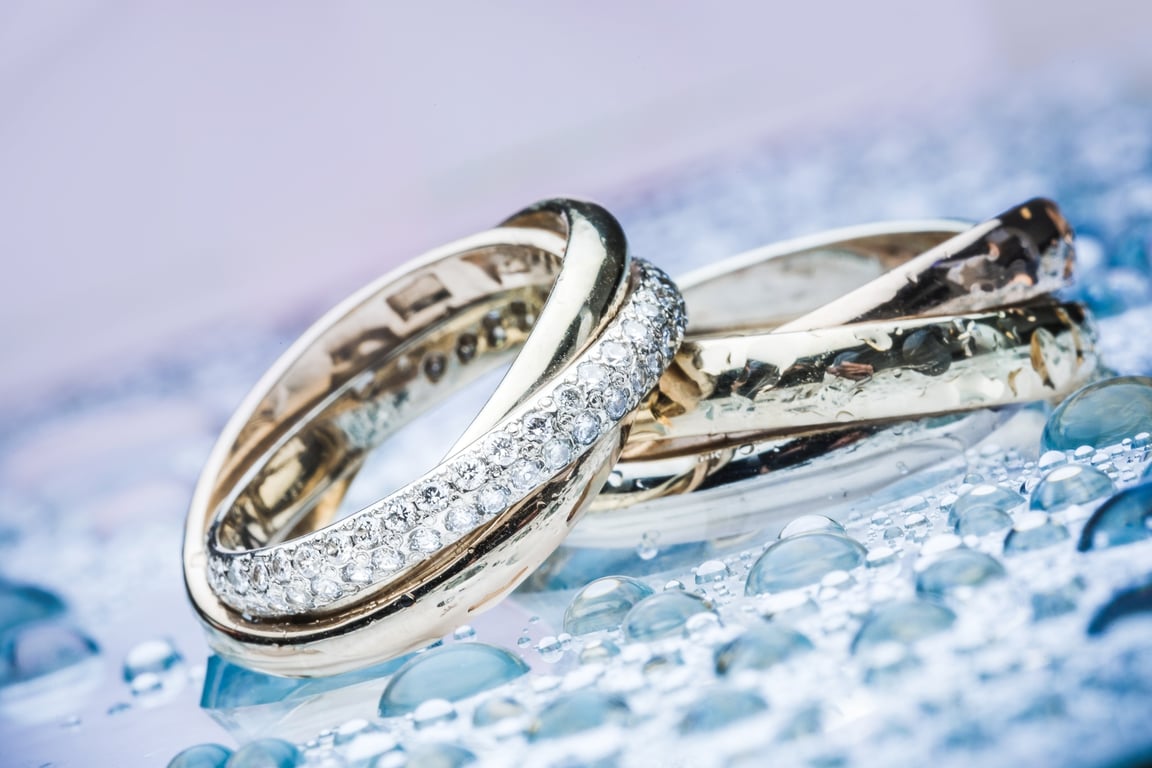 Moissanite is the gem that shook the jewelry market in Dallas, TX. Today, many collectors, lovers of jewelry and celebrities seek to possess a jewel including Moissanite engagement rings and diamonds. And moissanite solitaire engagement rings have become a real manifestation of luxury and a fashionable accessory for many newlyweds.
What is moissanite rings?
What you need to know about moissanite engagement rings? We will say a few words. It is a very rare mineral that was discovered in minimal quantities in kimberlite rocks. It is believed that this is a real guest from outer space because there are many of such stones in cosmic dust. By the way, firstly it was found exactly in the Diablo Canyon meteorite.
Often moissanite is artificially grown gems consisting of carborundum. Moissanite diamonds is characterized by a high refractive index (higher than diamond's refractive index), natural gems have a deep green or black color, but artificial ones can be of any shade. Today they are actively used in the production of jewelry.
How to Choose Moissanite Engagement Rings?
Moissanite is a gemstone that has a powerful energy. Regardless of whether you choose natural moissanite extracted from meteorites, or prefer a stone grown in a laboratory, its bright shine will perfectly emphasize the bright personality of the bride.
As for the shape and type of cut, large moissanites on a wide ring are better for girls with large fingers, tall and slender brides. But it is better to decorate the thin graceful hands of a miniature bride with a pavé engagement ring. At the same time, it is worth choosing a shade of stone. Traditional moissanites, completely repeating diamonds are good for adherents of classical traditions, but bright stones of yellow, pink, green shades will emphasize the originality of the bride's character and her tendency to experiment.
Choose Moissanite Engagement Rings by Style and Shape
If we talk about the style of the lab created moissanite engagement rings, then there is also plenty to choose from.
The classic engagement ring is a ring with one large stone in the center. And for moissanite this is always the right choice, because this stone shines brighter than a diamond! At the same time, the cut of moissanite can be practically any, from round cut and "Heart" to "Princess", "Asher" or "Emerald".
Pave and Petite Pave are the rings most often chosen by young couples. Small moissanites in one or several rows covering the ring look very bright.
Three Stone Design is another popular type of engagement and wedding rings. Three stones at once on a strip of gold or platinum look stylish and laconic. An ideal choice for those who do not like the deliberate brightness of pavé rings, but are not going to be limited to one moissanite.
There are also options for the style from old-fashioned rings with rich luxury inlay and fantasy form of gems to laconic minimalism, steampunk design or eco-style imitating natural materials from wood to stone from raindrop to mist performed in gems and metal.
Therefore, one more option you have to choose for your soulmate is the shape of a ring. Here, let's begin with the width of a ring. Thin rings with one to three gems look classical. Rings of a middle width are appropriate merely for every design from single-stone to pave. And if you like solid shape and big, recognizable jewelry, then you have a choice among wide rings of gold or platinum or even titanium.
Selecting a Quality Moissanite Diamond: The 4 C's
Then, you need to choose a gem itself. To get high-quality moissanite, it is easy to take into account a popular rule of 4C approved by the US Gemological Institute.
Clarity of a gem. Only gems with perfect clarity are worth your attention.
Color. It is quite easy to get in a lab merely every color of moissanite. But the most beautiful and rare are clear crystal gemstones, yellow and rose ones.
The cut is also a matter of choice. For big gems it is suitable to choose Asher, Pear, Princess, Oval cut. And small diamonds are looking good with Round cut or Emerald cut.
Carate is a measure of gem's size and it is always a matter of boast. The bigger size of a gem you choose for your bride, the cooler she will look in her friend's eyes.
Most popular Moissanite engagement rings in Dallas
As diamonds, moissanite has become one of the best gems for engagement ceremonies. This trend is actively developing today. What are moissanite rings popular?
What can you give to your soulmate with moissanite to express your feelings?
Moissanite Rings with Diamond Side Stone. Rings with stones on the sides look no less stylish. The sparkling moissanite will be the center of the composition and diamonds will complement it with their brilliance.
Pave Moissanite Engagement Rings. Pave rings are always a dizzying sheen. And if moissanites are used as at least part of the stones, such pave moissanite engagement ring will simply radiate light.
Moissanite solitaire engagement rings. If you want to make a special gift for your girlfriend, the Moissanite solitaire engagement ring will come in handy. The shine, size and incredible shine are sure to delight her.
Three Stone Moissanite Engagement Rings. If you prefer classics, then three stone moissanite engagement ring is the best choice. Neat laconic lab created moissanite engagement rings with three stones in the center look elegant and expensive.
Moissanite Engagement Halo Ring. A Halo ring is a find for girls who believe that there is no limit for gems in jewelry. Large moissanite in the center and a smaller halo made of gems are a great engagement idea.
Vintage Moissanite Engagement Rings. Despite the fact that moissanite began to be used for the production of jewelry not so long ago, there are also vintage-style rings with this stone on sale. And we recommend that you pay attention to vintage moissanite engagement rings if you like jewelry with a fleur of the past.
Unique Moissanite Engagement Rings. And, of course, it is always better. to choose an engagement ring, which will be one of a kind. It is these unique moissanite engagement rings that courageous and modern couples usually choose. The moissanite stone has already replaced the diamond from the pedestal. And if you like to be in trend, moissanite rings are definitely your choice.
Where to buy moissanite engagement rings?
You can buy moissanite engagement rings in Dallas from our jewelry company according to your taste. You can come and pick the best engagement ring in Dallas. Our jewelry store has a large picking moissanite engagement rings to suit your taste. You can talk to a jeweler and choose the exact moissanite ring you like from the jeweler's advice. The jeweler of our company will be able to help you in choosing the jewelry that is right for you.
FAQs Moissanite engagement rings
Moissanite is a diamond simulant made of silicon carbide. Moissanite rings are currently one of the most popular purchases, considering the price and quality.
You can buy moissanite rings from specialized jewelry stores that specialize in lab diamonds and
loose moissanite
. In our jewelry store Sofia Lior Diamonds you can buy moissanite rings by visiting or calling to us.
The price for a 3 carat moissanite ring range from $3,000 to $3,500.
A 2 carat moissanite is approximately 7.50mm to 8.00mm in size depending on the chosen shape.