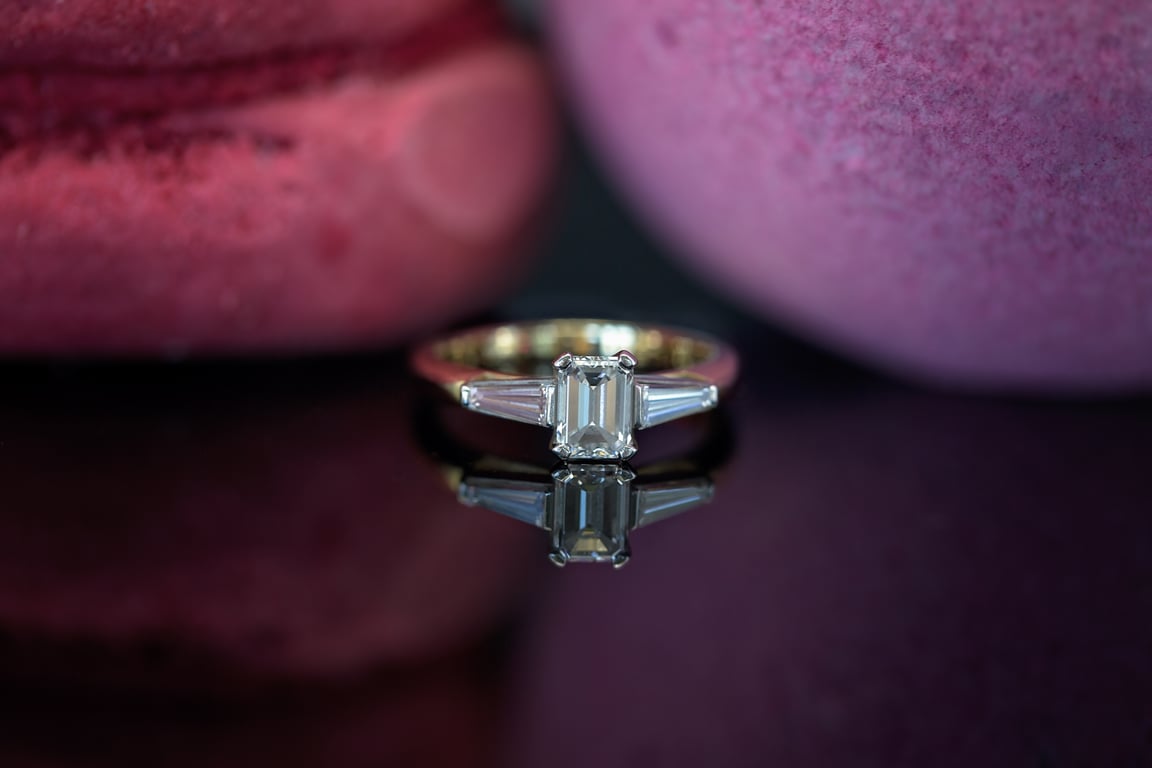 The moissanite side stone ring is a very special piece of jewelry. Its design can be quite diverse from classic options with a big center gem and a couple of side stones to laconic rings where stones are single and are placed on the side of a ring. When choosing an moissanite side stone ring, you should start with two basic questions:
What number of stones do you want to see on the ring. Classics is a big central stone and from 1 to 3 stones placed on each side. But there are also options with more side stones or even some kinds of a side stone engagement ring without a central stone. In the last case, you can choose both three-stone rings with gems placed on one side or a single side-stone ring – this design is quite popular today.
What kind of stones should be used in the ring. As usual, it is a diamond ring that suits for engagement. But you can also take a look at moissanite side stone rings as they look similar to the diamond but their sparkling is even brighter. Besides, their price is lower than for diamond jewelry.
Side-stone rings are looking extra luxury as they have an unusual design and a scattering of sparkling stones that makes them different and unique. Today, future spouses are not limited by traditions when it comes to choosing an engagement ring. So they can easily take the idea of a moissanite side stones on engagement rings for their engagement.
What Is Moissanite Side Stones Engagement Rings?
Let's start with moissanite loose stones. This gemstone is gaining popularity since its manufacturing becomes more widespread. As usual, moissanites are synthetic gems made in lab conditions. By their structure, they are not resembling natural diamonds but, in fact, they look like diamond. That's why sometimes you can meet the name moissanite diamond rings for jewelry with these gems.
Moissanite side stones are even more suitable for engagement rings, we can say. There are two reasons to claim it so. First, moissanites have a more intense radiance and glow comparing to diamonds. This stone shines much better than a diamond since it has a higher ability to refract light. Moissanite in a piece of jewelry will attract more attention than a diamond, since, under equal conditions, it will show the best play of color and brilliance.
The second reason is the price. Among synthetic gemstones, moissanite is probably the most expensive one. But it is at least 5-10 times cheaper than a diamond of similar weight. That's why if the price matters to you, you are welcome to buy affordable moissanite engagement rings instead of costly moissanite diamond side by side rings.
What Diamond Shapes Look Best With Moissanite Side-Stones Engagement Rings?
This question has lots of correct answers. Moissanite side stone rings are not limited by cut as they can look splendid in any cut you choose. Besides, there are multiple options to choose among side-stone rings.
Yellow vs White Gold Engagement Rings:
Round-shaped diamonds are always looking good in any jewelry. This rule is actual for side-stone rings too.
An oval diamond ring with side stones can be extraordinary just because of the cut of stones. When choosing it, you can combine both oval and round moissanites in one item.
An engagement ring with emerald side stones will be exquisite if gems are of similar size forming a row.
A princess-cut engagement ring with side stones is a good idea for a modern design with a single side stone on a flat gold surface.
A halo diamond ring with side stones is an interesting design where two basic designs for engagement rings are met.
In brief, you can choose any cut you like as there are lots of options that can be chosen to make a perfect match with it.
If you are interested in buying a moissanite side stones on engagement rings near me, we have some good news for you. As moissanites are not so widespread as diamonds are, finding them in Dallas, TX can be a real quest. Not every jeweler works with these gems. But you can find your side-stones moissanite ring in Dallas in the Sofia Lior store. You can choose a ready-made design or ask the jeweler to create a custom ring for you. All kinds of a side-stones engagement ring in Dallas are available in Sofia Lior Diamonds.
Yellow and White Gold Moissanite Side Stones Engagement Rings
One more feature you should consider when choosing a ring for your future spouse is the kind of metal. We can say that gold is no doubt a perfect choice. But even gold can have quite a different color. As usual, people choose between white and yellow gold as they are more common and universal for every design. We can say that both options are worth your attention. You can also choose among them depending on the color type of the skin and eyes of your bride. For dark skin and dark eyes, yellow gold engagement rings with side stones will look harmonious, Well, if the dark skin is combined with blue or light-green eyes, it is white gold that will underline the unique appearance. And for light-colored skin of real Snowwhites, white gold engagement rings with side stones will match perfectly.
To summarize everything, you can choose among a diversity of designs of side-stone rings. If you want to get really deluxe jewelry for an affordable price, take note of moissanite rings as they are looking like diamonds but they are much cheaper.