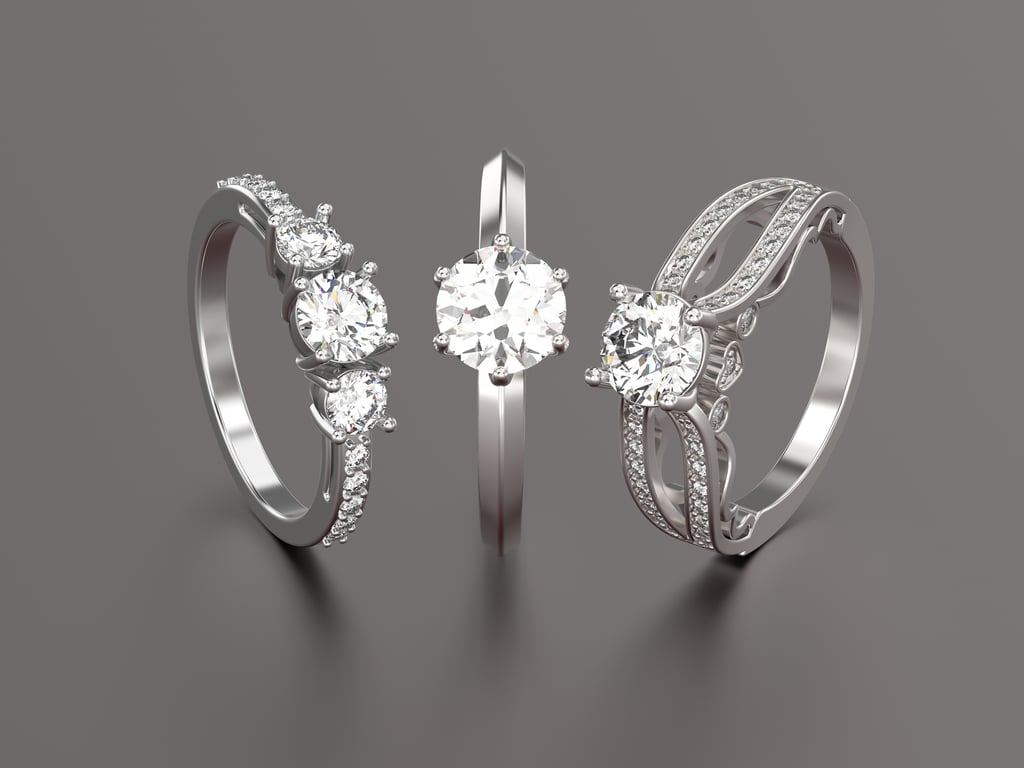 Moissanite engagement ring is among the most popular option in recent years. That lab-grown mineral allows to enjoy a really outstanding sparkling and it is even more clearwater than any naturally-mined gem could be. Yet, it is also the price for moissanite jewelry that impacts the customer's choice as this type of jewelry is much cheaper than its diamond-inlaid analog of similar size and design.
Amond the most commonly used settings for engagement rings, the three-stone engagement ring is always on the top. Why is it so? Let's get through it.
What Do the 3 Stone Moissanite Engagement Ring Symbolize?
Symbolics is especially important when it comes to the wedding. Even the tiniest detail may be considered as a symbol of a good or bad omen. That's why you should thoroughly choose a ring as the main object of the engagement ritual. Be sure that the moissanite three-stone engagement ring is always considered to be a good choice.
There are some legends connected with this number of gems in the ring. Due to the first of it, moissanite three stone ring symbolizes three hypostases of God that are the God-father, God-son (Jesus Christ) and the Holy Spirit. So the ring with this symbol brings blessings to its owner. One more legend is connected with the symbols of the Past, the Future and Present Days of the couple. As the ring is decorated with clear and shining diamonds or moissanites, all the days of the couple may be happy and prosperous.
What Benefits Will I Get Choosing Moissanite Three-Stone Engagement Ring?
The first and, maybe, the most remarkable reason why do people choose a three-stone setting for an engagement ring is the number of gems inlaid. Be sure that three stones are always better than one as the ring with them, looks more solid and sophisticated. Besides, a three stone moissanite ring has lots of designs to implement instead of a solitaire ring.
One more benefit you may appreciate is its utility. Moissanite is among the hardest minerals found on the Earth. It is only a bit less hard than the diamond. And you won't be so worried about the safety of this ring as moissanite is fully tolerant to the sweat, detergents, cosmetics you may use.
As it is a lab-grown gemstone, moissanite is usually adhering the highest level of 4Cs. It shines brighter, it can be grown of almost every carat size and it is usually clearer than any natural diamond. Nothing to say, its color is usually in the D-H line on the diamond color scheme.
Moissanite Three Stone Engagement Rings Guide
Let's enclose all the specifics that ring setting has.
What metal can my three stone moissanite ring be made of? That is one more question we get from buyers. Be sure, as a natural diamond, almost every type of metal is suitable for it. Let's begin with gold. You can be amazed by a three-stone rose gold ring as it looks romantic and gentle. If you want to present a ring to a real Ice Queen or to a girl who loves cold shades, it is an engagement ring of three stones and of white gold you may choose. And it is a really eternal classics – a three-stone engagement ring of yellow gold. If talking about the popularity, then, in the past few years, it was a three-stone pink engagement ring and its alternative three-stone rose engagement ring that is on the top. Yet, silver, platinum or even titanium options are also catching the wave.
What stone size to choose for a three-stone ring with moissanites? To answer that question, we should build on the following factors: the size of the palm, the design of a ring, its width and the budget you want to spend on it. Starting with a 1-carat three-stone cut moissanite ring, that will look good on a tiny hand with thin fingers, up to a 4-carat 3 stone oval moissanite ring that will underline the beauty of every palm. Besides this, you can also combine several different in size stones in one ring i.e. choosing a 2-carat three-stone cut moissanite ring you can select two stones of 2-carat size and the central one can be of a larger size. Well, looking for optimal size, it is a 3-carat 3 stone cushion moissanite ring.
The most successful combination of shapes for 3 stone moissanite engagement ring is the following.
A bigger solitaire of a Pear or Princess cut.
Three similar gems of a Round cut.
Three gems of an Emerald cut starting from smaller to a bigger one.
A three-stone ring allows using almost every type of cut. The choice depends on the size of gems and on the design of a whole ring.
Moissanite Three-Stone Engagement Ring vs Natural Diamonds Three-Stone Engagement Ring?
Among the most common questions, we get from our customers is what is better: a moissanite ring or a diamond ring? We have some pro arguments for a three-stone moissanite engagement ring.
Ethical reason. Moissanites are lab-grown. There is no risk to get a bloody diamond in your ring. All the gems are conflict-free and eco-friendly.
The price for a 3 stone moissanite engagement ring could be a dozen times lower than for diamond jewelry with similar-size gemstones.
If you compare moissanite to a diamond, the sparklilng of the first one will be more intense due to its higher refraction index.
Yet, without a microscope and special skills, even a jeweler cannot distinguish whether it is moissanite or a diamond? They look quite similar, and their features are similar too.
In our web store, you may find dozens of options for your three-stone moissanite ring to make your engagement the best day of your life. If you are looking to buy moissanite for your engagement ring, our jewelry store can help you do just that!
FAQs Moissanite Three Stone Engagement Rings
You are welcome to get the custom design from our jewelers. It's a great option when you are looking for something special. Just share your ideas with our pros to get draft images of your future ring.
There are no limitations to the fantasy! Even if you haven't found the shape of the ring we offer in our ready-made items, you can apply for a custom design and get it from our jewelers.