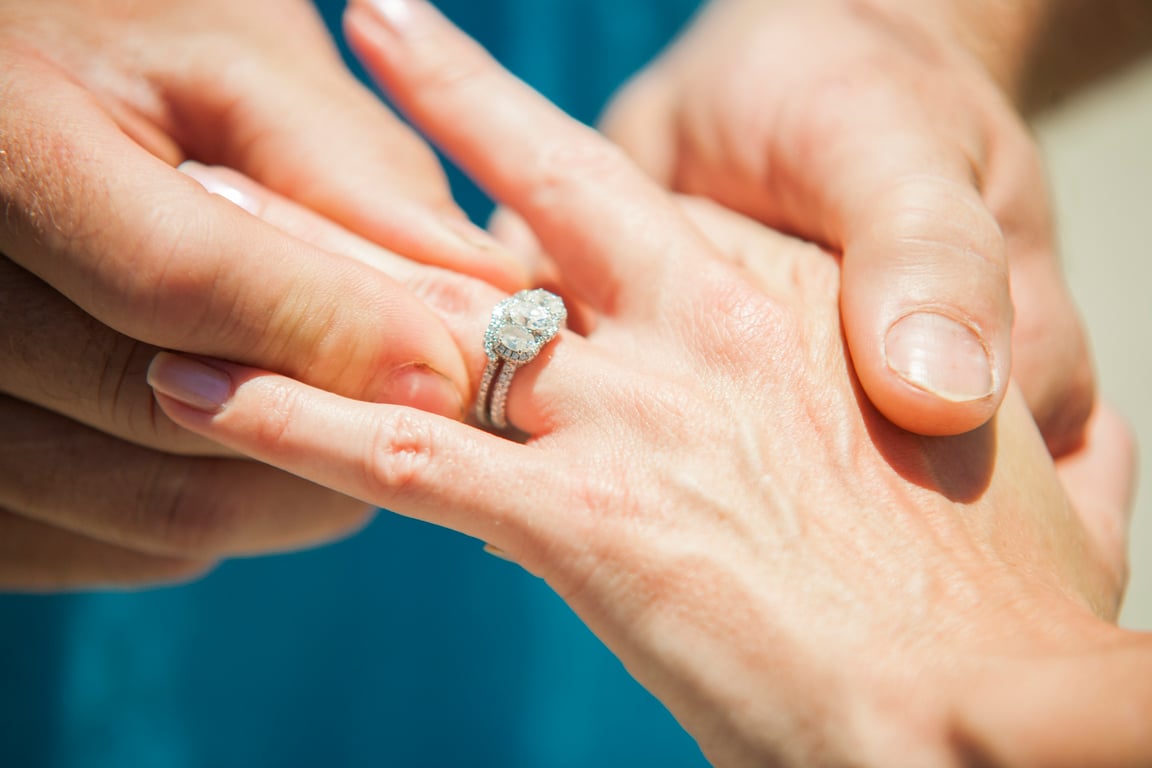 Why has vintage style jewelry become so popular? It's all about the royal family. It is no secret that it is the royal families that carefully preserve historically significant artefacts, including rare antique jewelry. At the same time, many representatives of royalty become style icons, many imitate their jewelry. Princess Diana, Grace Kelly of Monaco, Princess Charlotte, Kate Middleton and other members of the aristocracy inspire their fans and make vintage jewelry popular. In addition, many couturiers are looking for inspiration in the past for their modern collections, using vintage elements. It is not surprising that rings, as if from a grandmother's chest, are very popular today.
Today moissanite engagement rings are on a wave of popularity. This stone has become a real find for connoisseurs of bright sparks typical of a diamond. And in vintage rings, moissanite looks simply stunning. Fashion is not constant, yet it returns to its roots quite often. And the interest in vintage-styled jewelry is on the top today. Let's enclose all the merits of vintage engagement ring styles and their modern performance in the moissanite jewelry.
What You Should Know Before Buying Vintage Moissanite Rings
While this style of jewelry is very popular, be careful when choosing moissanite rings vintage style. Most often, they imply a rather catchy design, bright and unusual decor elements. Such rings should not be chosen for girls who prefer a strict business style in clothes or a sporty style. They are not suitable for supporters of an active lifestyle because protruding elements can easily injure the skin or break off.
In addition, when buying a vintage engagement ring, you should definitely decide on the very era that it will personify. The following directions are especially popular today:
Victorian rings referring to the second half of the 19th century and the style of Victorian England.
Georgian rings are reminiscent of jewelry from the era of King George.
Art Deco is a light and filigree style of the early twentieth century.
Art Nouveau, more solid and monumental, with the use of large stones and harsh metal elements.
Baroque - artsy, with intricate, colorful designs reminiscent of the Baroque era itself.
Here are some tips on how to choose the best vintage style moissanite rings
First, choose a general concept and era - they will be the basis for your choice.
Order vintage moissanite engagement ring set only from trusted sellers: it is very difficult to distinguish a fake, and the seller of branded products with moissanite is obliged to provide certificates for each stone.
Due to the affordable cost, old fashioned vintage inspired engagement rings moissanite can be easily made to order. This way you will get a unique product without emptying your wallet and bank account.
What Makes a Moissanite Engagement Ring Vintage? There are several markers that define the vintage style of the rings. This is primarily the use of fairly traditional types of gold or silver, with no titanium, white gold, pink and lemon variations accepted. Also for vintage jewelry, certain types of settings are characteristic - these are the already familiar halo, solitaire, and the old cathedral, floral or setting with the help of filigree. Vintage rings are characterized by plant motifs, flowers or imitation of wildlife. Also, moissanite vintage engagement rings are often characterized by certain types of stone cut - Marquis, Pear, Cushion, Round-cut prevail.
Vintage Moissanite Engagement Rings Looking Like Vintage Antique Engagement Rings
It is not uncommon for buyers to confuse the vintage itself and the vintage style. The first term refers to jewelry that is 20 years old and up. Vintage style is a stylization of jewelry for bygone eras. At the same time, this style has enough advantages:
Same style. Jewelry is often designed in exactly the same style as antique pieces.
Same sparkle. Using moissanite, which has the same characteristics as diamonds, moissanite antique style moissanite engagement rings shine just as well as real natural stones.
It's easier to look after them. Moissanite is a very hard stone, it is not subject to mechanical damage, does not tarnish or lose its luster even with minimal maintenance.
What Metal Can We Use for My Moissanite Vintage Engagement Ring?
Despite some strict rules for vintage rings, today you are free to choose the metal to make them according to your taste.
Engagement ring in vintage made of white gold - looks exclusive, albeit somewhat modern.
Engagement ring of yellow gold - allows you to fully reveal the vintage style.
Vintage pink engagement ring is an unusual option for brave girls. Add stones of non-standard colors to it - and you get a very bright decoration for delicate fingers.
Vintage rose gold engagement ring is neoclassical. Today this combination of Vintage stone rose gold rings is very popular.
What Is a Good Size Stone for a Vintage Engagement Ring?
1-carat vintage moissanite rings is looking good if it is a thin and tiny item with filigree and delicate craftwork.
2-carat moissanite rings vintage suits ring with three-stone setting, filigree or floral settings. It doesn't look large yet its sparkling is amazing.
3-carat vintage cut moissanite can be used as a halo center or in a cathedral setting.
4-carat vintage cut moissanite is a real chick as it is quite big to attract attention by itself and it looks exquisite, not vulgar.
What Are a Vintage Engagement Ring Setting?
As vintage style in jewelry refers to several epochs and acquires features of jewelry fashion from each of these epochs, you can choose among the wide range of settings that are common for Vintage style rings. Let's make a brief overview of them.
Halo vintage engagement rings moissanite are quite commonly called the most popular engagement rings. This type of setting looks like the center stone is set surrounded by a halo of small stones. You can purchase an item with one halo and with a double one - the first one has only one circle of stones surrounding the central stone, while a double one has two circles.
Floral vintage engagement rings moissanite are a kind of cluster setting with a bigger central gemstone surrounded by other gems in a style of flower petals. So the whole look of a ring is reminding a flower bud.
Cathedral vintage engagement rings are among the most popular settings also. This setting uses a V-styled prong to fix the gem.
Art Deco vintage engagement rings refer to the style of the early 20s. Futuristic shapes and colors along with a special vintage setting are used for these rings.
Filigree vintage engagement rings are also among vintage settings. In them, the fixing of stones is performed with the help of thin metal wires of threads that also make vintage gold rings looking old-fashioned and moissanite antique rings.
FAQs Moissanite vintage engagement rings
No, there is a big difference. Antique rings are items that were crafted times ago. They are rare and usually they cost much. Instead of this, vintage rings are just designed using some special features of old-fashion styles in jewelry. They are newly-made yet no less beautiful
This term refers to the method of gem-setting on the ring. A feature of the V-prong setting also popularly called the cathedral setting, is the mounting of the stone high above the ring shank. The diamond, as in the photo, is held as if by metal arches, hence the name of this type of setting
It is a vintage-style setting that often includes small grainy embossings (also known as "fine grains") that gave it its name Milgrain (thousands of grains from French), which were mostly done with small balls of metal around the edges of the ring.
It's up to you to combine several features from both vintage and modern ring styles. Our jewelers will gladly help you with a design like that.