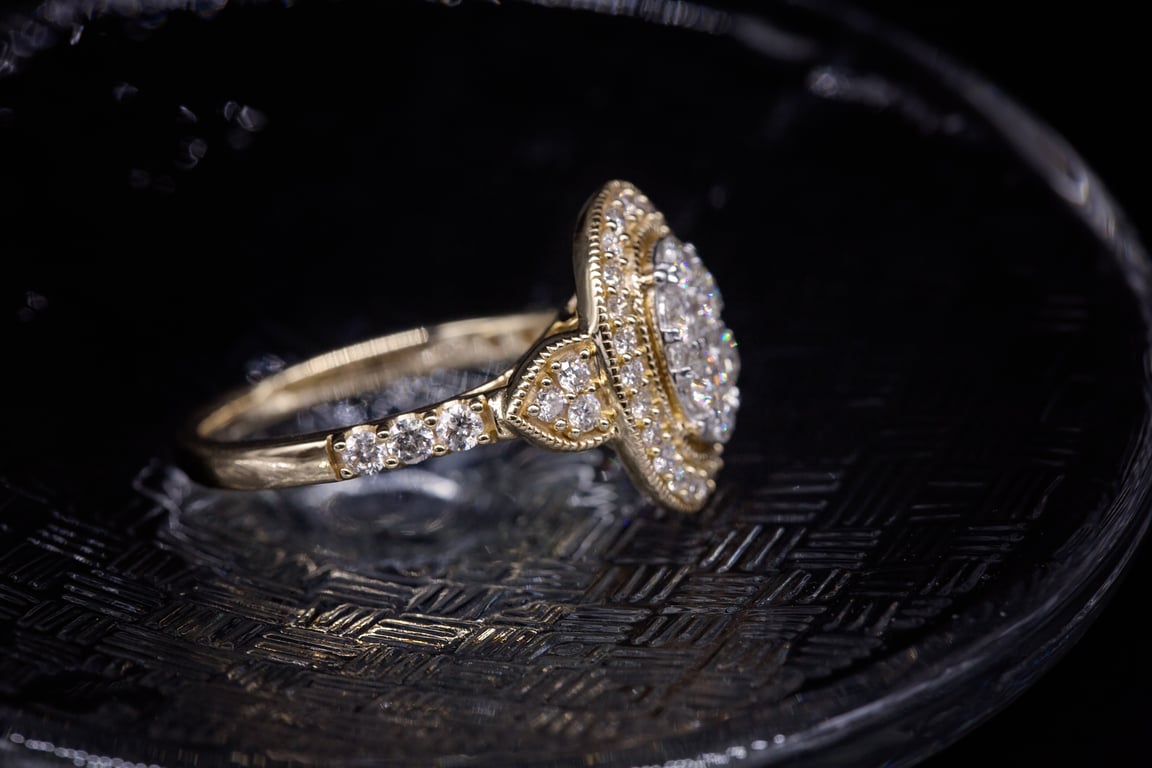 Halo moissanite engagement rings are incredibly popular today. Looking luxury they are stylish and comfortable to wear. And it allows you to show all the depth of your feeling with the help of multiple diamonds, covering the ring.
What Is a Moissanite Halo Engagement Ring
The term halo is used to describe a piece of jewelry that has a single big stone in the center surrounded by small gems. As usual, for halo are diamonds used. As for the central gemstone, it could be of any type, i.e. a diamond, a sapphire or an emerald are looking extremely classy. If you need something extraordinary, it is also a good idea to choose a moissanite stone halo ring that has even more sparkles than a diamond.
If you want to underline the deluxe status of your fiancee, choose moissanite halo engagement rings for her. This cut allows a gem looking even bigger than the same carat moissanite round halo engagement rings or cushion cut halo moissanite engagement ring. This type of cut also makes fingers look longer and more fragile. And it has a strict symmetry of facets. Choosing a moissanite halo rings is always a good idea. It suits such a significant event as an engagement perfectly, highlighting love and tenderness that you feel to your soul mate.
Can You Add a Halo to Your Engagement Ring
The answer to this question depends on the size and type of ring. For the European-type engagement ring, it is quite difficult to place a halo on it. If it is an American-styled engagement ring, that has flat edges and a square-shaped section it is quite possible to make a halo decoration for it. You should also remember that halo is a decoration for woman and if you seek for decoration both for him and for her, it is better to use engraving. But to please your soul mate, choosing a moissanite halo rings is the best option ever.
Does a Halo Make a Diamond Look Bigger? Halo helps draw more attention to the main body and can give a central gemstone a larger look. For example, a quarter, third, or a half-carat diamond can sometimes look a whole carat larger. And the whole composition with halo moissanite engagement ring lab diamonds surrounding the main stone looks bigger and more solid.
Why Are Moissanite Halo Engagement Rings so Popular?
There are lots of reasons why do people love halo jewelry decoration. We decided to collect the most widespread ones.
The moissanite halo wedding set is a style that first appeared in the 1920s. Due to the fashion turnbacks from time to time, the style of Roarin' 20s comes to be popular. And it especially causes diamond moissanite halo engagement rings.
Double halo moissanite engagement ringeffect looks costly and solid even if the central stone is only ½ or ¼ carats. It affects attention and such a remarkable jewelry looks just like Hollywood classics.
Halo engagement rings are suitable for every girl. It looks good both on tender skinny fingers and on the big palm.
You can evaluate different types of halo decorations for engagement rings due to its fitting for different gem cuts.
What Is the Difference? What makes moissanite halo rings so unique? Let's compare different cuts of a central gem to get it through.
Emerald-Cut Halo Engagement Rings. The famous square cut of diamonds, which is called emerald, goes well with the halo frame. The strict rows of small diamonds visually enlarge the center stone and make its clarity more expressive. Emerald cut moissanite halo engagement rings attract the sun's rays and highlight the stone in the center like a halo.
Oval Halo Ring. If you want to visually lengthen your fingers and make your hand more graceful, an oval halo ring is perfect. Halo emphasizes the many facets of the oval diamond, highlighting its perfection and beauty.
Princess-Cut Halo Engagement Rings. The princess cut is considered the best for a diamond because due to the refraction of light in its 50 facets, the stone looks noble and expensive. And if you add a smaller diamond frame to the princess-cut stone, the effect of such princess-cut moissanite halo engagement rings will be simply dizzying.